Splashtop Secure remote access refers to the ability to access computer systems, networks, or resources from a remote location in a secure manner. It allows users to work or retrieve data from a remote location while maintaining the confidentiality integrity and availability of the information being accessed.
The Basics Role of Secure Remote Access In Business Industry:
Secure remote access plays a fundamental role in the modern business industry providing numerous benefits to organizations and their employees. Here are some key aspects of its role:
1. Facilitating Remote Work: Secure Remote Access enables employees to work from anywhere whether it's from home while traveling or in branch offices. It allows businesses to embrace flexible work arrangements and tap into a global talent pool. Remote work increases productivity, employee satisfaction, and work-life balance.
2. Enhancing Collaboration: Secure remote access enables teams to collaborate effectively even when they are geographically dispersed. With secure access to shared resources employees can collaborate in real-time on documents, projects, and applications, improving communication and teamwork.
3. Enabling Business Continuity: Secure remote access is crucial for ensuring business continuity especially during unforeseen events like natural disasters, pandemics, or other disruptions. With the ability to access systems and data remotely businesses can continue their operations, serve customers and maintain productivity even when physical access to the office is restricted.
4. Increasing Productivity: Remote access eliminates the need for employees to be physically present in the office reducing commuting time and allowing them to dedicate more time to work.
5. Cost Savings: Secure remote access can lead to significant cost savings for businesses. It reduces expenses related to office space, utilities, and infrastructure.
6. Attracting and Retaining Talent: Offering secure remote access options can be a valuable tool for attracting and retaining top talent. Many professionals prioritize flexibility in their work arrangements and organizations that offer secure remote access have a competitive advantage in the job market.
7. Security and Risk Mitigation: While enabling remote access carries security risks implementing secure remote access solutions with robust security measures mitigates these risks. Secure remote access ensures that sensitive data remains protected during transmission and that access is granted only to authorized individuals reducing the risk of data breaches and unauthorized access.
Advantages of Secure Remote Access:
Flexibility: Secure remote access allows employees to work from anywhere promoting work-life balance and accommodating remote work arrangements.
Increased productivity: Remote access enables quick and convenient access to resources reducing time wasted on commuting and facilitating efficient collaboration.
Business continuity: Secure remote access ensures operations can continue during disruptions such as natural disasters or pandemics minimizing downtime.
Cost savings: Remote access reduces expenses related to office space and infrastructure while potentially expanding the talent pool.
Disadvantages of Secure Remote Access:
Security risks: Remote access introduces potential vulnerabilities requiring robust security measures to protect against unauthorized access and data breaches.
Dependency on technology: Technical issues or network connectivity problems may hinder remote access impacting productivity and requiring technical support.
Communication challenges: Remote work can limit face-to-face interaction potentially affecting teamwork, brainstorming, and fostering a cohesive company culture.
Monitoring and control: Managing remote employees and monitoring their work progress may be more challenging requiring effective communication and performance tracking tools.
Conclusion:
Secure Remote Access enables flexibility and productivity by allowing users to connect to their work systems and resources from any location. This capability is particularly valuable in today's digital age where remote work and mobility have become increasingly prevalent. With secure remote access employees can access their files, applications, and tools securely, improving collaboration and efficiency.
Read More.. https://sites.google.com/view/splashtopus/blog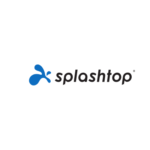 Splashtop Remote Access is an all-in-one remote access solution that lets you access and control your computer from anywhere in the world. With Splashtop Remote Access, you can do anything you need to do on your computer – even if you're not physically present.