In today's fast-paced world, remote work has become the new norm. Whether you're a business owner looking to optimize your company's operations or an individual seeking a flexible work environment, remote desktop solutions are a game-changer. Among the top contenders in this field, Splashtop Remote Desktop stands out as a reliable and efficient choice. In this article, we'll dive deep into Splashtop Remote Desktop, exploring its features, benefits, and how it can revolutionize your remote work experience.
The Rise of Remote Work
In recent years, the concept of traditional office spaces has evolved significantly. The rise of remote work has allowed employees to break free from the confines of their cubicles and work from virtually anywhere. This transformation has been accelerated by technological advancements that enable seamless connectivity and collaboration.
The Need for Remote Desktop Solutions
While remote work offers unprecedented flexibility, it also presents challenges, particularly in accessing office computers and data from remote locations securely. This is where remote desktop solutions like Splashtop come into play. They bridge the gap between physical office spaces and remote workstations, ensuring productivity and security are never compromised.
What is Splashtop Remote Desktop?
An Overview of Splashtop
Splashtop is a leading remote desktop solution designed to provide users with remote access to their computers and files from anywhere in the world. It's a versatile tool that caters to various industries, from businesses and educational institutions to IT support services and individual users.
How Does It Work?
Splashtop operates by establishing a secure connection between your local and remote devices. This connection allows you to control your remote computer as if you were sitting right in front of it. The data transfer is encrypted, ensuring that your sensitive information remains confidential.
Key Features of Splashtop Remote Desktop
High-Performance Streaming
Splashtop is renowned for its exceptional streaming capabilities. It delivers high-quality audio and video, allowing for smooth and lag-free remote work or multimedia playback.
Cross-Platform Compatibility
Whether you're using a Windows PC, Mac, Linux, iOS, or Android device, Splashtop offers compatibility across various platforms, making it accessible to a wide range of users.
Security Measures
Splashtop prioritizes security, implementing robust encryption protocols and two-factor authentication to safeguard your data and prevent unauthorized access.
Customization Options
Users can tailor Splashtop to their specific needs by customizing settings and permissions, ensuring a seamless and personalized remote work experience.
Why Choose Splashtop Remote Desktop?
Competitive Pricing
Splashtop offers cost-effective plans, making it an attractive option for businesses of all sizes and individuals looking for affordable remote desktop solutions.
User-Friendly Interface
The user interface of Splashtop is intuitive and user-friendly, ensuring that even those with minimal technical expertise can navigate it with ease.
Top-Notch Customer Support
Splashtop provides excellent customer support, with responsive assistance available to help users with any issues or inquiries.
Getting Started with Splashtop
Setting Up Your Account
Getting started with Splashtop is straightforward. Simply sign up for an account on the Splashtop website and follow the on-screen instructions.
Installing the Splashtop App
Once you have an account, download and install the Splashtop app on your local and remote devices.
Connecting to Your Remote Computer
Launch the app, log in to your account, and establish a connection to your remote computer. You'll have full control and access to your files and applications.
Use Cases for Splashtop Remote Desktop
Business Applications
Splashtop is a valuable tool for businesses that need to provide remote access to employees, enabling collaboration and productivity from anywhere.
Educational Institutions
Educational institutions can use Splashtop to facilitate remote learning, allowing students and teachers to access educational resources and software remotely.
IT Support Services
IT professionals can use Splashtop to provide remote assistance and troubleshooting for clients, reducing response times and increasing efficiency.
Personal Use
Individuals can benefit from Splashtop by accessing their home computers while traveling or working from a different location.
Splashtop vs. Competitors
In a competitive market, Splashtop distinguishes itself with its performance, pricing, and user-friendly interface. A comparative analysis reveals that Splashtop offers a compelling package.
Tips for Maximizing Your Splashtop Experience
To make the most of Splashtop Remote Desktop, consider optimizing your bandwidth and implementing security best practices to ensure a smooth and secure remote work environment.
Conclusion
In a world where remote work has become the norm, Splashtop Remote Desktop is your reliable companion for seamless remote access. With its impressive features, affordability, and user-friendly interface, Splashtop empowers businesses and individuals to work efficiently from any location.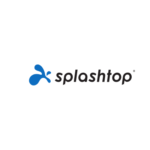 Splashtop Remote Access is an all-in-one remote access solution that lets you access and control your computer from anywhere in the world. With Splashtop Remote Access, you can do anything you need to do on your computer – even if you're not physically present.