Introduction:
In today's era of remote work and dispersed teams, the importance of dependable and effective Remote Desktop software cannot be overstated. Splashtop, a renowned remote desktop solution, presents a comprehensive set of features tailored to enhance your remote work experience. This article delves into how Splashtop can empower you with seamless workflows, unrestricted device access, and amplified productivity in your remote endeavors.
1. High Performance for Seamless Remote Sessions:
One of the standout features of Splashtop is its high-performance capabilities. Say goodbye to laggy and unresponsive remote sessions. Splashtop ensures smooth and real-time interaction, making it ideal for tasks that require instant responses, such as video streaming, gaming, or graphic design. Experience the ultimate level of performance, enabling you to stay productive and efficient no matter where you are.
2. Cross-Platform Support: Access Any Device, Anywhere:
Splashtop's cross-platform compatibility opens up a world of possibilities. Whether you use Windows, macOS, Linux, Android, or iOS, Splashtop provides seamless access to your remote devices from any supported platform. No more limitations on device compatibility – work from your preferred device without any hassle.
3. Secure Remote Access: Safeguarding Your Data:
Security is a top priority in remote work scenarios. Splashtop takes this seriously by utilizing strong encryption protocols to protect your data during transmission. Rest assured that your sensitive information remains secure while you access your remote devices. Additionally, features like two-step verification and device authentication add an extra layer of protection, preventing unauthorized access.
4. Easy File Transfer: Collaborate Effortlessly:
Splashtop simplifies collaboration by facilitating easy file transfer between local and remote devices. Share documents, images, and files securely with colleagues or clients during remote sessions. This feature streamlines teamwork, making collaboration a breeze even when working remotely.
5. Remote Printing: Print from Anywhere:
Remote printing is often a pain point in remote work situations. Splashtop addresses this challenge by allowing you to print documents from your remote computer to a local printer. No more worries about transferring files just to print – boost your productivity with the convenience of remote printing.
6. Remote Wake and Sleep: Energy-Efficient Management:
Promote eco-consciousness and responsible power usage with Splashtop's efficient power management feature. By leveraging Splashtop, you can actively contribute to eco-friendly practices by remotely controlling the power state of your devices. With the ability to wake up or put your remote computer to sleep from anywhere, you'll enhance energy efficiency and accessibility, all while reducing unnecessary power consumption. Take charge of your environmental impact and embrace a sustainable future through conscious power management with Splashtop.
Conclusion:
In today's remote work landscape, Splashtop stands as a comprehensive and reliable remote desktop solution. With its high-performance capabilities, cross-platform support, top-notch security features, and seamless file transfer and printing functionalities, Splashtop empowers you to work efficiently from anywhere. Embrace the future of remote work with Splashtop's user-friendly and robust remote desktop solution, and elevate your productivity to new heights.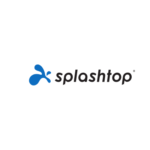 Splashtop Remote Access is an all-in-one remote access solution that lets you access and control your computer from anywhere in the world. With Splashtop Remote Access, you can do anything you need to do on your computer – even if you're not physically present.