David Attenborough knows our natural world like no other, and there's never been a more urgent time to hear his story and vision for our future.
In this unique feature documentary, titled David Attenborough: A Life On Our Planet, the celebrated naturalist reflects upon both the defining moments of his lifetime and the devastating changes he has seen. Coming to Netflix October 4 2020, the film addresses some of the biggest challenges facing life on our planet, providing a snapshot of global nature loss in a single lifetime. With it comes a powerful message of hope for future generations as Attenborough reveals the solutions to help save our planet from disaster.
You can say what you want about the severity of Climate Change but one thing you can't disagree with is that IT IS REAL.
David Attenborough: A Life on Our Planet | WATCH IT ON Netflix
"A really compelling documentary with a crucial message that the entire world needs to hear. The setup of the film as a witness statement and a vision for the future works really well. Another reminder that we need to act quickly don't want to screw up the planet any more than we have.
While he constructs it within the typical doomsday "we've singlehandedly destroyed the planet and it's literally now or never" context, a large part of it is based in an appeal to the narcissism of the human race. he takes a long, purposeful moment to place the emphasis on our mortality- yes, the planet is dying but if we don't radically shift the way our modern societies function within the natural world, we will cease to exist.
𝚃𝚑𝚎𝚛𝚎 𝚊𝚛𝚎 𝚖𝚊𝚗𝚢 𝚍𝚒𝚏𝚏𝚎𝚛𝚎𝚗𝚌𝚎𝚜 𝚋𝚎𝚝𝚠𝚎𝚎𝚗 𝚑𝚞𝚖𝚊𝚗𝚜 𝚊𝚗𝚍 𝚝𝚑𝚎 𝚛𝚎𝚜𝚝 𝚘𝚏 𝚝𝚑𝚎 𝚜𝚙𝚎𝚌𝚒𝚎𝚜 𝚘𝚗 𝙴𝚊𝚛𝚝𝚑, 𝚋𝚞𝚝 𝚘𝚗𝚎 𝚝𝚑𝚊𝚝 𝚑𝚊𝚜 𝚋𝚎𝚎𝚗 𝚎𝚡𝚙𝚛𝚎𝚜𝚜𝚎𝚍 𝚒𝚜 𝚝𝚑𝚊𝚝 𝚠𝚎 𝚊𝚕𝚘𝚗𝚎 𝚊𝚛𝚎 𝚊𝚋𝚕𝚎 𝚝𝚘 𝚒𝚖𝚊𝚐𝚒𝚗𝚎 𝚝𝚑𝚎 𝚏𝚞𝚝𝚞𝚛𝚎. 𝙵𝚘𝚛 𝚊 𝚕𝚘𝚗𝚐 𝚝𝚒𝚖𝚎, 𝙸 𝚊𝚗𝚍 𝚙𝚎𝚛𝚑𝚊𝚙𝚜 𝚢𝚘𝚞 𝚑𝚊𝚟𝚎 𝚍𝚛𝚎𝚊𝚍𝚎𝚍 𝚝𝚑𝚊𝚝 𝚏𝚞𝚝𝚞𝚛𝚎. 𝙱𝚞𝚝 𝚒𝚝'𝚜 𝚗𝚘𝚠 𝚋𝚎𝚌𝚘𝚖𝚒𝚗𝚐 𝚊𝚙𝚙𝚊𝚛𝚎𝚗𝚝 𝚝𝚑𝚊𝚝 𝚒𝚝'𝚜 𝚗𝚘𝚝 𝚊𝚕𝚕 𝚍𝚘𝚘𝚖 𝚊𝚗𝚍 𝚐𝚕𝚘𝚘𝚖. 𝚃𝚑𝚎𝚛𝚎'𝚜 𝚊 𝚌𝚑𝚊𝚗𝚌𝚎 𝚏𝚘𝚛 𝚞𝚜 𝚝𝚘 𝚖𝚊𝚔𝚎 𝚊𝚖𝚎𝚗𝚍𝚜, 𝚝𝚘 𝚌𝚘𝚖𝚙𝚕𝚎𝚝𝚎 𝚘𝚞𝚛 𝚓𝚘𝚞𝚛𝚗𝚎𝚢 𝚘𝚏 𝚍𝚎𝚟𝚎𝚕𝚘𝚙𝚖𝚎𝚗𝚝, 𝚖𝚊𝚗𝚊𝚐𝚎 𝚘𝚞𝚛 𝚒𝚖𝚙𝚊𝚌𝚝, 𝚊𝚗𝚍 𝚘𝚗𝚌𝚎 𝚊𝚐𝚊𝚒𝚗 𝚋𝚎𝚌𝚘𝚖𝚎 𝚊 𝚜𝚙𝚎𝚌𝚒𝚎𝚜 𝚒𝚗 𝚋𝚊𝚕𝚊𝚗𝚌𝚎 𝚠𝚒𝚝𝚑 𝚗𝚊𝚝𝚞𝚛𝚎. 𝙰𝚕𝚕 𝚠𝚎 𝚗𝚎𝚎𝚍 𝚒𝚜 𝚝𝚑𝚎 𝚠𝚒𝚕𝚕 𝚝𝚘 𝚍𝚘 𝚜𝚘. 𝚆𝚎 𝚗𝚘𝚠 𝚑𝚊𝚟𝚎 𝚝𝚑𝚎 𝚘𝚙𝚙𝚘𝚛𝚝𝚞𝚗𝚒𝚝𝚢 𝚝𝚘 𝚌𝚛𝚎𝚊𝚝𝚎 𝚝𝚑𝚎 𝚙𝚎𝚛𝚏𝚎𝚌𝚝 𝚑𝚘𝚖𝚎 𝚏𝚘𝚛 𝚘𝚞𝚛𝚜𝚎𝚕𝚟𝚎𝚜, 𝚊𝚗𝚍 𝚛𝚎𝚜𝚝𝚘𝚛𝚎 𝚝𝚑𝚎 𝚛𝚒𝚌𝚑, 𝚑𝚎𝚊𝚕𝚝𝚑𝚢, 𝚊𝚗𝚍 𝚠𝚘𝚗𝚍𝚎𝚛𝚏𝚞𝚕 𝚠𝚘𝚛𝚕𝚍 𝚝𝚑𝚊𝚝 𝚠𝚎 𝚒𝚗𝚑𝚎𝚛𝚒𝚝𝚎𝚍. 𝙹𝚞𝚜𝚝 𝚒𝚖𝚊𝚐𝚒𝚗𝚎 𝚝𝚑𝚊𝚝.
This film is important for all of us to watch. It truly opens your eyes to see the devastating impact humans have had on our one planet in such a short period of time. Though devastating, and a hard reality to face, there is still hope according to Attenborough "We need to rediscover how to be sustainable, and move from being apart from nature to becoming part of nature once again".
𝐓𝐡𝐢𝐬 𝐢𝐬 𝐢𝐦𝐩𝐨𝐫𝐭𝐚𝐧𝐭 𝐟𝐨𝐫 𝐚𝐥𝐥 𝐭𝐨 𝐰𝐚𝐭𝐜𝐡, 𝐭𝐨 𝐨𝐩𝐞𝐧 𝐲𝐨𝐮𝐫 𝐞𝐲𝐞𝐬 𝐚𝐧𝐝 𝐭𝐫𝐮𝐥𝐲 𝐬𝐞𝐞 𝐭𝐡𝐞 𝐝𝐞𝐯𝐚𝐬𝐭𝐚𝐭𝐢𝐧𝐠 𝐢𝐦𝐩𝐚𝐜𝐭𝐬 𝐡𝐮𝐦𝐚𝐧 𝐥𝐢𝐟𝐞 𝐜𝐚𝐧 𝐡𝐚𝐯𝐞 𝐨𝐧 𝐭𝐡𝐞 𝐰𝐨𝐫𝐥𝐝. 𝐓𝐡𝐨𝐮𝐠𝐡 𝐝𝐞𝐯𝐚𝐬𝐭𝐚𝐭𝐢𝐧𝐠 𝐚𝐧𝐝 𝐜𝐨𝐧𝐟𝐫𝐨𝐧𝐭𝐢𝐧𝐠 𝐭𝐨 𝐰𝐢𝐭𝐧𝐞𝐬𝐬, 𝐭𝐡𝐞𝐫𝐞 𝐢𝐬 𝐬𝐭𝐢𝐥𝐥 𝐡𝐨𝐩𝐞 𝐲𝐞𝐭. "𝐖𝐞 𝐧𝐞𝐞𝐝 𝐭𝐨 𝐫𝐞𝐝𝐢𝐬𝐜𝐨𝐯𝐞𝐫 𝐡𝐨𝐰 𝐭𝐨 𝐛𝐞 𝐬𝐮𝐬𝐭𝐚𝐢𝐧𝐚𝐛𝐥𝐞. 𝐓𝐨 𝐦𝐨𝐯𝐞 𝐟𝐫𝐨𝐦 𝐛𝐞𝐢𝐧𝐠 𝐚𝐩𝐚𝐫𝐭 𝐟𝐫𝐨𝐦 𝐧𝐚𝐭𝐮𝐫𝐞 𝐭𝐨 𝐛𝐞𝐜𝐨𝐦𝐢𝐧𝐠 𝐚 𝐩𝐚𝐫𝐭 𝐨𝐟 𝐧𝐚𝐭𝐮𝐫𝐞 𝐨𝐧𝐜𝐞 𝐚𝐠𝐚𝐢𝐧".
𝙸𝚏 𝚠𝚎 𝚌𝚊𝚗 𝚌𝚑𝚊𝚗𝚐𝚎 𝚝𝚑𝚎 𝚠𝚊𝚢 𝚠𝚎 𝚕𝚒𝚟𝚎 𝚘𝚗 𝙴𝚊𝚛𝚝𝚑, 𝚊𝚗 𝚊𝚕𝚝𝚎𝚛𝚗𝚊𝚝𝚒𝚟𝚎 𝚏𝚞𝚝𝚞𝚛𝚎 𝚌𝚘𝚖𝚎𝚜 𝚒𝚗𝚝𝚘 𝚟𝚒𝚎𝚠. 𝙸𝚗 𝚝𝚑𝚒𝚜 𝚏𝚞𝚝𝚞𝚛𝚎, 𝚠𝚎 𝚍𝚒𝚜𝚌𝚘𝚟𝚎𝚛 𝚠𝚊𝚢𝚜 𝚝𝚘 𝚋𝚎𝚗𝚎𝚏𝚒𝚝 𝚏𝚛𝚘𝚖 𝚘𝚞𝚛 𝚕𝚊𝚗𝚍 𝚝𝚑𝚊𝚝 𝚑𝚎𝚕𝚙, 𝚛𝚊𝚝𝚑𝚎𝚛 𝚝𝚑𝚊𝚗 𝚑𝚒𝚗𝚍𝚎𝚛, 𝚠𝚒𝚕𝚍𝚎𝚛𝚗𝚎𝚜𝚜. 𝚆𝚊𝚢𝚜 𝚝𝚘 𝚏𝚒𝚜𝚑 𝚘𝚞𝚛 𝚜𝚎𝚊𝚜 𝚝𝚑𝚊𝚝 𝚎𝚗𝚊𝚋𝚕𝚎 𝚝𝚑𝚎𝚖 𝚝𝚘 𝚌𝚘𝚖𝚎 𝚚𝚞𝚒𝚌𝚔𝚕𝚢 𝚋𝚊𝚌𝚔 𝚝𝚘 𝚕𝚒𝚏𝚎. 𝙰𝚗𝚍 𝚠𝚊𝚢𝚜 𝚝𝚘 𝚑𝚊𝚛𝚟𝚎𝚜𝚝 𝚘𝚞𝚛 𝚏𝚘𝚛𝚎𝚜𝚝𝚜 𝚜𝚞𝚜𝚝𝚊𝚒𝚗𝚊𝚋𝚕𝚢. 𝚆𝚎 𝚠𝚒𝚕𝚕 𝚏𝚒𝚗𝚊𝚕𝚕𝚢 𝚕𝚎𝚊𝚛𝚗 𝚑𝚘𝚠 𝚝𝚘 𝚠𝚘𝚛𝚔 𝚠𝚒𝚝𝚑 𝚗𝚊𝚝𝚞𝚛𝚎 𝚛𝚊𝚝𝚑𝚎𝚛 𝚝𝚑𝚊𝚗 𝚊𝚐𝚊𝚒𝚗𝚜𝚝 𝚒𝚝. 𝙸𝚗 𝚝𝚑𝚎 𝚎𝚗𝚍, 𝚊𝚏𝚝𝚎𝚛 𝚊 𝚕𝚒𝚏𝚎𝚝𝚒𝚖𝚎 𝚎𝚡𝚙𝚕𝚘𝚛𝚊𝚝𝚒𝚘𝚗 𝚘𝚏 𝚝𝚑𝚎 𝚕𝚒𝚟𝚒𝚗𝚐 𝚠𝚘𝚛𝚕𝚍, 𝙸'𝚖 𝚌𝚎𝚛𝚝𝚊𝚒𝚗 𝚘𝚏 𝚘𝚗𝚎 𝚝𝚑𝚒𝚗𝚐. 𝚃𝚑𝚒𝚜 𝚒𝚜 𝚗𝚘𝚝 𝚊𝚋𝚘𝚞𝚝 𝚜𝚊𝚟𝚒𝚗𝚐 𝚘𝚞𝚛 𝚙𝚕𝚊𝚗𝚎𝚝… 𝚒𝚝'𝚜 𝚊𝚋𝚘𝚞𝚝 𝚜𝚊𝚟𝚒𝚗𝚐 𝚘𝚞𝚛𝚜𝚎𝚕𝚟𝚎𝚜. 𝚃𝚑𝚎 𝚝𝚛𝚞𝚝𝚑 𝚒𝚜, 𝚠𝚒𝚝𝚑 𝚘𝚛 𝚠𝚒𝚝𝚑𝚘𝚞𝚝 𝚞𝚜, 𝚝𝚑𝚎 𝚗𝚊𝚝𝚞𝚛𝚊𝚕 𝚠𝚘𝚛𝚕𝚍 𝚠𝚒𝚕𝚕 𝚛𝚎𝚋𝚞𝚒𝚕𝚍. 𝙷𝚘𝚠𝚎𝚟𝚎𝚛 𝚐𝚛𝚊𝚟𝚎 𝚘𝚞𝚛 𝚖𝚒𝚜𝚝𝚊𝚔𝚎𝚜, 𝚗𝚊𝚝𝚞𝚛𝚎 𝚠𝚒𝚕𝚕 𝚞𝚕𝚝𝚒𝚖𝚊𝚝𝚎𝚕𝚢 𝚘𝚟𝚎𝚛𝚌𝚘𝚖𝚎 𝚝𝚑𝚎𝚖. 𝚃𝚑𝚎 𝚕𝚒𝚟𝚒𝚗𝚐 𝚠𝚘𝚛𝚕𝚍 𝚠𝚒𝚕𝚕 𝚎𝚗𝚍𝚞𝚛𝚎. 𝚆𝚎 𝚑𝚞𝚖𝚊𝚗𝚜 𝚌𝚊𝚗𝚗𝚘𝚝 𝚙𝚛𝚎𝚜𝚞𝚖𝚎 𝚝𝚑𝚎 𝚜𝚊𝚖𝚎.
Produced by WWF and award-winning wildlife film-makers Silverback Films, David Attenborough: A Life On Our Planet is a first-hand account of humanity's impact on nature and a message of hope for future generations.
Find your local cinema at: https://www.attenborough.film/ #AttenboroughFilm Visit our website for more information and follow us for regular updates: Website: https://fal.cn/360Pd Facebook: https://fal.cn/35DhP Instagram: https://fal.cn/35DhQ Twitter: https://fal.cn/35DhR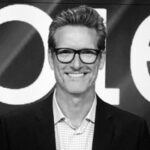 CEO Kubient the leading audience-based advertising cloud.
Lifetime entrepreneur, mentor, Board Member obsessed with the infinite realm of possibility in the digital transformation of the world. Founder & Board Member TruVest, MainBloq. Board Member Beasley Media (NASDAQ: BBGI) Fraud.Net, Hoo.Be