In the operating room, there are three different types of lighting systems. These different types of lighting are known as LEDs, gas discharge lighting, and incandescent lighting. However, Light-Emitting Diodes have become the best operation option over time.
The LED lights used in operation theatre are also referred to as surgical lights. There are various benefits of LED Operation Theatre Lights, and over the period, it is evident that it is required for the desired result. Light-Emitting Diodes emit light when an electrical current is passed through it. In contrast, on the other hand, other types of lamps utilise halogen, tungsten, xenon, and quartz for combustion, producing an insufficient and unsatisfactory amount of light.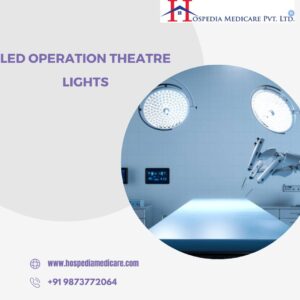 LED became a standard option in many industries, including operating rooms and other procedural settings. It became the preferred light source for surgical procedures, surpassing traditional halogen light sources. They have more efficient energy consumption and use much less energy than a halogen to create lighting of a higher calibre. Most of the bulb's structure comprises the lead frame and plastic encapsulation; the light-producing chip is relatively modest.
In operation theatre three most common methods of lighting are used.
Overhead lights
Headlights Loupes
In-cavity lighting
With the impactful result of various doctors and surgeons, it is evident that overhead surgical lights significantly impact performing surgery in an operating room. It is attached to the ceiling to allow maximum illumination of the surgical field, i.e. the part of the body being operated. LED Operation Theatre Lights enhance light emission while generating minimal heat.
They are affixed on the wall or mounted on it. They are stretched over the examination table to perform checks or inspections and can be adjusted for improved vision. They are simple to use in any size room. Depending on your preferences and convenience, they can be put anywhere in the room.
Wall-mounted medical exam lamps emit uniformly distributed light with a larger field of view (FOV). Doing so allows the examiner to study a particular area more thoroughly without constantly moving or adjusting the light's focus.
These lights are wall mounted, so they don't take up any room on the floor or a table, and they don't restrict the physicians' or nurses' movement. As a result of the simplicity of access and movement, they can conduct an examination that is thorough and precise while conserving time.
Due to its many advantages, using white surgical light during operation procedures is universally advised. The LED surgical light can be as bright as 160,000 Lux at its brightest. It weighs about 45 kg and has a 40,000–60,000 hour operating range limit. Because it has more energy than longer-wavelength light, other light may pass through the pupil and reach the retina. They damage eyesight and can generate heat waves as a barrier during operation. When surgeons utilise magnifying loupes under strong surgical shadowless lights for a better view of the operating field, the overall brightness is about 200 times brighter.
The quality and position of the LED Operation Theatre Lights prevent shadows from forming, which is a challenge during a medical examination. The shadow of the doctor's hand or head may impair the doctor's ability to see the target area during delicate and complex examinations. For better results, wall-mounted lights avoid these dangers.
The high-end producers and suppliers of these lights, including "Hospedia Medicare," make all their products while upholding the lights' accuracy, efficiency, and quality. To deliver the greatest outcomes to their clients and patients worldwide, they adhere to the established standards and precise characteristics such as light color, light intensity, the quantity of heat or radiation it creates, shadow creation, etc.
Now, the issue of where to purchase it has been raised. Given surgical lighting's complexity, sophistication, and frequent customisation for an operating room or examination room, buying this equipment may involve several steps. The key to completing successful and safe procedures is to ensure the procedure room has the appropriate surgical or exam light. When choosing which surgical lighting systems to buy, staff members purchasing equipment for their facility may consider elements like brand, service support, long-term and short-term cost, and environmental sustainability. A sales agent or distributor frequently facilitates the purchasing of operating room lights.
Conclusion
The valuable information mentioned in this article would help you choose the most appropriate light for your hospital or medical establishment. It would facilitate the accuracy of the Surgeries and the operations to ensure the well-being and safety of the patients. The right medical lights having proper light color, intensity, brightness, and field of view promote clear vision without putting too much strain on the eyes.
While some operating rooms may decide to spend their money on cheap lighting, they are also prone to experience poor perioperative team performance and adverse patient clinical outcomes. Injuries may result when an object's position, shape, or speed is misjudged due to inadequate lighting. It may affect the accuracy and caliber of the work. If employees are exposed to too much or too little light, it may irritate their eyes.