In today's highly competitive digital landscape, marketers are constantly seeking innovative ways to drive visibility, reach, and sales for their products or services. Amazon Marketing Services (AMS) has emerged as a powerful platform that offers a multitude of advertising solutions to help businesses achieve their marketing goals. In this guest post, we will explore effective strategies for leveraging AMS marketing services to maximize your brand's potential and enhance your overall marketing performance.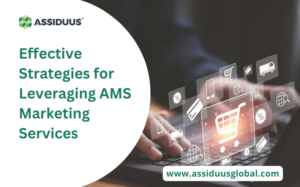 1. Define Your Advertising Objectives:
Before diving into AMS marketing services, it is crucial to define your advertising objectives. Whether it's increasing sales, driving brand awareness, or boosting product visibility, having clear goals will guide your strategy and help you make the most of the platform's features. Define specific metrics to measure success and align them with your overall marketing strategy.
2. Conduct Targeted Keyword Research:
One of the fundamental aspects of successful AMS campaigns is thorough keyword research. Identify the keywords and phrases that are relevant to your product or service. Utilize tools like Amazon's suggested keywords, competitor analysis, and third-party keyword research tools to identify high-volume and low-competition keywords. Incorporate these keywords strategically into your product listings, sponsored ads, and display campaigns to increase visibility and relevance.
3. Optimize Product Listings:
Optimizing your product listings is crucial to enhance discoverability and improve conversion rates. Craft compelling and concise product titles, utilize engaging bullet points, and provide detailed and accurate product descriptions. Incorporate relevant keywords in a natural and seamless manner, keeping in mind Amazon's guidelines. High-quality product images and appealing visual content can significantly impact customer perception and drive conversions.
4. Sponsored Product Ads:
Sponsored Product Ads are an effective way to boost product visibility and drive sales. Select relevant products to advertise and bid on specific keywords. Leverage campaign structures such as automatic targeting, manual targeting, and product targeting to maximize your reach. Regularly monitor and optimize your campaigns based on performance metrics like click-through rates (CTR), conversion rates, and return on ad spend (ROAS) to refine your strategy and improve campaign effectiveness.
5. Display Ads:
AMS Display Ads allow you to reach potential customers beyond the search results page. These ads can appear on Amazon product detail pages, customer review pages, and even external websites through Amazon's advertising network. Utilize eye-catching ad creatives, target relevant audiences, and optimize your bidding strategy for maximum impact. Leverage advanced targeting options such as interest-based, category-based, and product-based targeting to effectively reach your desired audience.
6. Sponsored Brands:
Sponsored Brands provide an opportunity to showcase your brand and multiple products within a single ad. This format allows you to drive brand awareness and direct traffic to a customized landing page or your Amazon Store. Develop compelling ad copy, incorporate relevant keywords, and optimize your bidding strategy to maximize visibility and engagement. Monitor key performance indicators like impressions, clicks, and sales to refine your Sponsored Brands campaigns.
7. Analyze and Optimize:
Continuous analysis and optimization are critical for achieving long-term success with AMS. Regularly monitor campaign performance, track key metrics, and identify areas for improvement. Experiment with different ad formats, targeting options, bidding strategies, and ad placements to optimize your campaigns. Split testing can help determine the most effective strategies and refine your approach over time.
Conclusion:
Leveraging AMS marketing services can significantly impact your brand's visibility, reach, and sales on the Amazon platform. By defining your advertising objectives, conducting targeted keyword research, optimizing product listings, utilizing Sponsored Product Ads, Display Ads, and Sponsored Brands, and consistently analyzing and optimizing your campaigns, you can maximize your marketing performance and stay ahead of the competition. Embrace these effective strategies and unlock the full potential of AMS to drive your brand's success on Amazon.