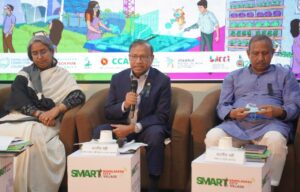 The perspective plan 2041 has been adapted to actualize the dreams of Bangabandhu and prepare the country for global competition by eradicating extreme poverty and achieving technological advancement.
The indispensable accomplishment is possible by steering a national strategy which should manoeuver modernization wide across the country in every city and village. Smart City is not a textual notion but it refers to a systematic urbanization where modern technologies will be used to provide people-friendly better services to citizens. While ensuring maximum use of a city's resources it will also function for safeguarding the environment.  On the other hand, the description of smart village stands as a rural community where local citizens can connect with the global market through the use of digital technologies and operate innovation platforms. Apart from this, Smart Village will contribute significantly in improving various service delivery systems of both public and private sectors, development of food supply system and development of renewable energy sources.
In a high-level workshop titled 'Vision 2041: Building Smart City and Smart Village in Bangladesh', the concepts were explored and called for attention from the proper authorities.
In the President's speech, the Minister of State for ICT Department, Mr. Junaid Ahmed Palak MP said, "Smart Bangladesh of 2041 will be cost-effective, sustainable, intellectual, knowledge-based and innovative Bangladesh." Implementation of smart cities and smart villages requires ensuring smart healthcare, smart transportation, smart utilities, urban administration, public safety, agriculture, internet connectivity and disaster management. Dhaka North City Corporation has already started working on the implementation of the Smart City concept. DNCC has installed 48,000 smart lights that can be controlled from mobile phones. Electricity is being saved by controlling the light of these lights as per requirement. Online tax collection has been started. Digital car parking is being arranged at 2,350 locations through biometric attendance of city corporation officials, online trade license and IoT. All civil service activities are being modernized gradually.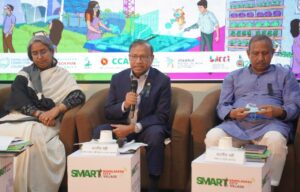 A2i policy advisor Anir Chowdhury pictured the concomitant elements for initiating the Smart Bangladesh policy from ground level. He said, "The identified components are- Smart traffic & parking system, Smart waste management, Ensuring internet access to last-mile citizens, Smart village transport, and Behavior change communication using data.  In the coming decade, these will play a pivotal role in bringing and essence of Smart Bangladesh."
All in all, it is as clear as a crystal that the government has embarked on a challenging path which needs proper planning and cooperation from all public & private entities. It will be interesting to watch how the strategies unfold while embracing the uncertainties of modern evolutions.