Airhouse, a startup in the e-commerce infrastructure market, announced this morning that it closed an $11 million Series A round of funding.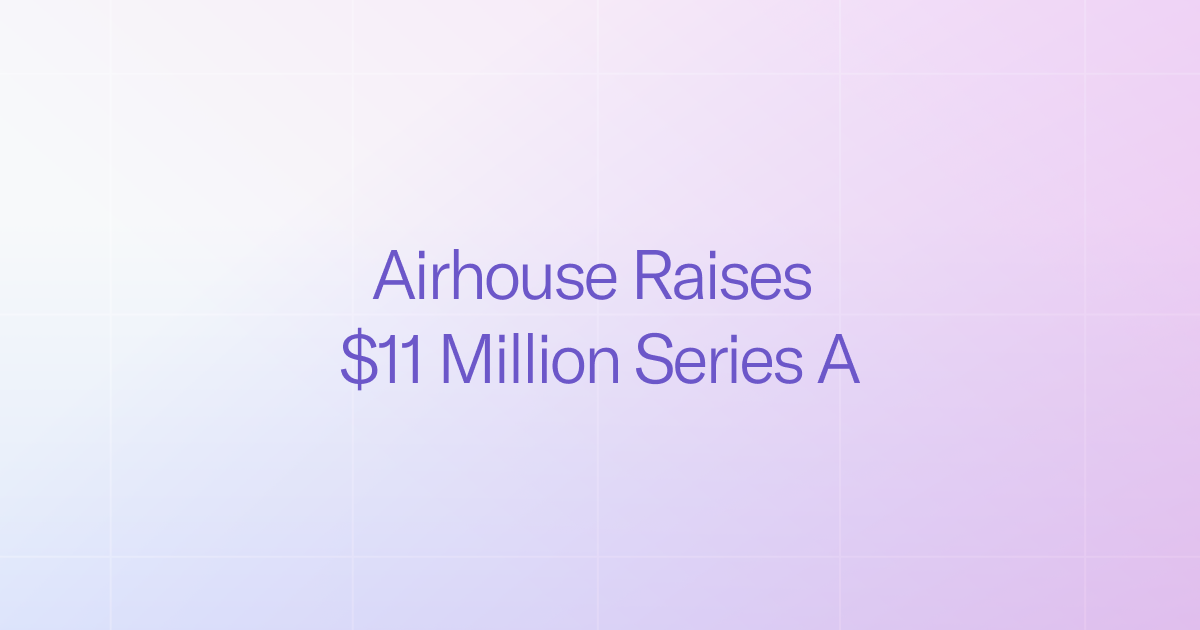 The capital event was led by DNX Ventures, Trajectory Capital, Gaingels, Elizabeth Street Ventures, RemoteNative Ventures with participation from a number of high profile angel investors Alexis Ohanian, Andrew Farah, Austin Rief, Jeff Weinstein, Manik Gupta, and strategic investors Flexport and Easypost.
Crunchbase data indicates that Airhouse previously raised $5.5 million.
The startup's model places it between brands creating and selling goods that they want to ship to customers and various third-party logistics groups, or 3PLs.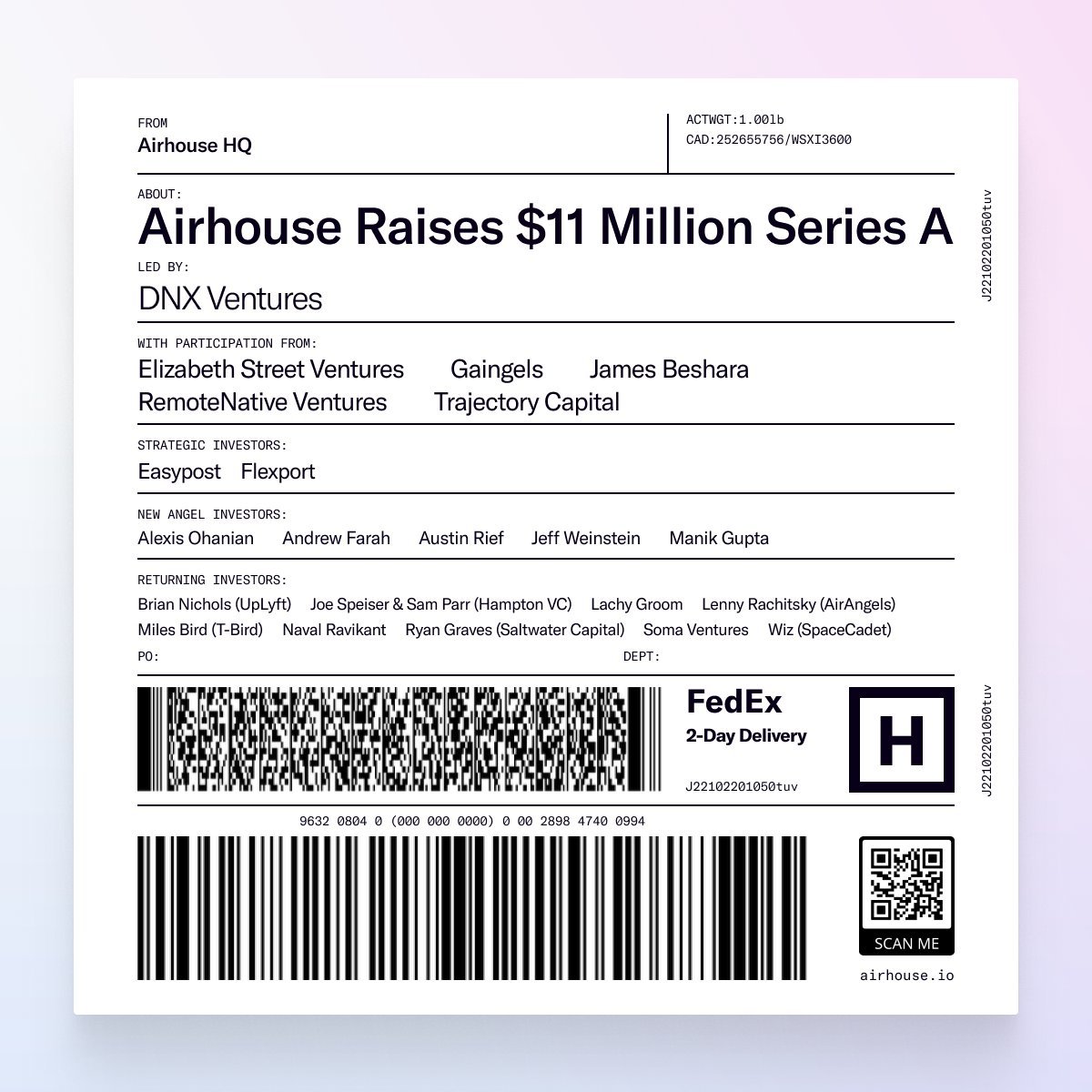 FROM THE COMPANY FOUNDERS:
Today, we are excited and proud to share that Airhouse closed an $11 million Series A financing round led by DNX Ventures. My co-founder and Chief Revenue Officer, Sarah Siwak, and I are proud to welcome DNX Managing Partner, Q Motiwala, to Airhouse's board of directors and we're beyond grateful for the continued support of our returning investors.
We launched Airhouse in June of 2020 as a next-generation fulfillment platform to simplify ecommerce operations and logistics for modern brands. Why? Because the existing logistics and operations solutions fail to meet their needs. Airhouse solves for the host of inefficiencies brands face when working with legacy providers to get their products in the hands of customers: outdated and inefficient software, inconsistent and non-transparent pricing, poor and mismanaged quality control, and a fractured and unscalable fulfillment process.
Airhouse offers brands an intuitive software platform that powers fulfillment from factory to front door. We've spent the last 20+ months fine-tuning the technical infrastructure of the product, acquiring even more partnerships with 3PL facilities across the country, and merging the two to scale our automated partner network. As a result, our customers benefit from access to best-in-class, modern warehouses and 3PL partners that historically have been out of reach due to high order minimums. We're leveling the playing field for these emerging brands to access these high-quality partners.
What's more, Airhouse operates from a sales channel-agnostic point of view—Airhouse integrates with whichever sales channel is best for a given customer (spoiler alert: it's usually more than one). Regardless of where our customers want to sell—from Shopify and Squarespace to Walmart and Target—fulfillment technology is no longer what holds them back. Fulfillment and operations are the largest non-core element of a brand's business that they historically would have to learn about and hire a vast team for. With Airhouse's easy-to-use technology, simple onboarding, and account management systems, it's all outsourced with what feels like a flip of a switch.
We are proud and humbled by the level at which our platform is now resonating with thousands of the next generation of beloved brands. Since launching publicly, we've seen customer growth increase by 600 percent and our partner network footprint grow by 500 percent. This growth in our partner network allows our customers to split their inventory across locations more strategically, which translates to getting products in the hands of customers very quickly, even in one day.
In the last 12 months, we've quintupled revenue and doubled the headcount of our team. This additional capital will allow us to expand our team so we can continue scaling alongside our existing and new customers by continuing to build features and functionality that meet their ever-changing needs. We will also continue scaling our partner network with plans to expand Airhouse globally.
We chose to partner with DNX for a variety of reasons, but the effort Q and the team have already put toward truly understanding our business is at the top of the list. Through a discovery process whereby they connected directly with potential and existing customers in addition to our partners, we were impressed with the opportunities they brought to the table that we hadn't considered ourselves. Here's what Q had to say about investing in Airhouse:
"The co-founding team of Kevin and Sarah possesses a unique perspective on ecommerce logistics. As repeat entrepreneurs in this sector, they bring deep domain knowledge, have a deep appreciation of GTM challenges, and have a great team. They also display unmatched tenacity and grit. DNX is humbled by the opportunity to partner with them and the Airhouse team."
It's an exciting time to be building tools in ecommerce and I'm confident we've uncovered just a fraction of the value Airhouse will offer emerging and growing brands. If what we're building and who we're building it for resonates with you, I hope you'll check out our open roles. We're hiring across the board and I can't wait for you to see what we do next.
Founder & Managing Partner of Trajectory Capital and CEO Trajectory ALPHA Acquisition Corp NYSE: TCOA.
Lifetime entrepreneur, mentor, Board Member obsessed with the infinite realm of possibility in the digital transformation of the world. Founder & Board Member TruVest, MainBloq. Board Member Beasley Media (NASDAQ: BBGI) Kubient NASDAQ: KBNT, Fraud.Net, Hoo.Be, MediaJel