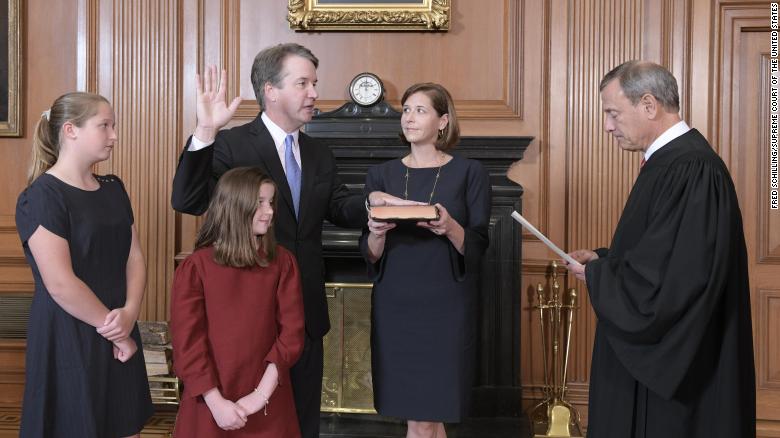 Election Day in less than one month, Brett Kavanaugh headed to the Supreme Court and American voters — maybe mobs of them — will head to the polls.
President Donald Trump and Senate Republicans have a legacy-building conservative to replace swing vote Anthony Kennedy and ensure a rightward tilt for decades to come. Is that worth the House or Senate majority?
Their long-term accomplishment could come with a very bitter pill if voters, particularly women and independents, are turned off by what it took to get Kavanaugh seated.
The wrenching spectacle of hearings in which the now-Justice Kavanaugh was accused of decades-old sexual harassment and the subsequent determination of Senate Republicans and Trump to block for Kavanaugh culminated a political battle that was notable and exhausting even in the Trump era, which is saying something.
Republicans, after a coordinated defense of Kavanaugh before his confirmation, have already pivoted to a coordinated defense of their majorities, seeking to paint those who loudly opposed Kavanaugh as part of a "mob."
Trump and Senate Majority Leader Mitch McConnell both used the term over the weekend, trying to dismiss the opposition to their guy as the feeling of a few, loud protesters.
"In their quest for power, the radical Democrats have turned into an angry mob," Trump said at a rally in Kansas on Saturday.
Whether painting protesters as a subset of unruly partisans is accurate or will be effective is very much up for debate. But the loud protests on Capitol Hill against Kavanaugh were unlike anything seen on Capitol Hill, perhaps, since 2010, when Democrats staked their majorities on passing Obamacare, the Affordable Care Act, and the tea party conservatives rose up to make their anger known.
Democrats are hoping something similar happens in the wake of Kavanaugh. A message that was already focused on defending that health care legislation will now also turn very much on the justice who tapped a raw nerve with the #MeToo movement.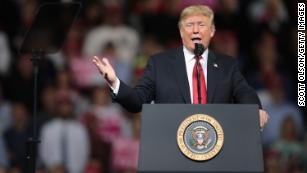 There is evidence that the court, which is usually a more motivating issue for Republicans, could drive Democrats to the polls this year. In a late-September Pew Poll completed before Kavanaugh's confirmation, 76% said the Supreme Court was "very important" — the first time in years the economy did not top the poll.
As CNN's Grace Sparks wrote in September, more Democrats (81%) said it was "an important issue for their vote" than Republicans (72%). The most-referenced important issue for Republicans was the economy, which drew 85% of their registered voters. Eighty-eight percent of Democrats said that health care was the issue most on their minds.
…