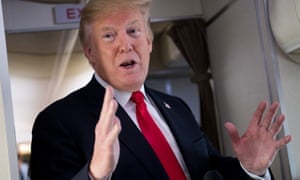 After a day of mass demonstrations against Donald Trump's family separations policy and calls by prominent Democrats to abolish the federal Immigration and Customs Enforcement agency, or Ice, the president dared Democrats to pursue the issue in the run-up to midterm elections in November.
"All it's going to do is lead to massive, massive crime," Trump said in an interview with Fox Business that aired on Sunday. "That's going to be their [Democrats'] platform, open borders which equals crime.
"I think they'll never win another election. So I'm actually quite happy about it."
Trump taunted Democrats as part of a broader defense of his immigration policies, which thousands of Americans protested on Saturday in hundreds of rallies across the country.
More than 2,300 undocumented children were separated from their families under Trump's "zero tolerance" policy, according to government figures. The majority remain apart from their parents. The administration said on Friday it would no longer "separate families but detain families together during the pendency of immigration proceedings".
At a rally in Boston, Democratic senator Elizabeth Warren called for the abolition of Ice, taking up similar calls from other 2020 presidential prospects including senators Kirsten Gillibrand and Kamala Harris.
"The president's deeply immoral actions have made…