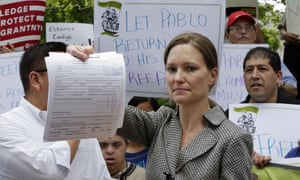 A federal judge on Saturday temporarily blocked the deportation of a New York pizza shop worker to his native Ecuador after he was arrested while making a delivery to a Brooklyn army base.
Attorneys for the Legal Aid Society obtained the temporary stay for Pablo Villavicencio after a hearing in Manhattan federal court.
The 35-year-old married father of two young girls was arrested on 1 June while making a delivery to the garrison in Fort Hamilton. A background check revealed there was a warrant for his arrest for immigration law violations.
Federal judge Alison Nathan granted the stay until 20 July. Villavicencio will remain in Immigration and Customs Enforcement (Ice) custody in New Jersey until his case goes to court.
…