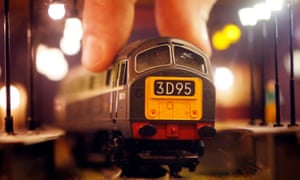 The struggling toymaker Hornby has been given breathing space by its bank to nail down a new finance deal despite a fresh slump in sales.
The loss-making model railway and Scalextric maker said poor sales in the first three months of 2018 meant it had breached the terms of its loan agreement with Barclays, but the bank was not taking any action.
Hornby's new chief executive, Lyndon Davies, said the 117-year-old company was in the final stages of negotiating a new, larger loan facility with another lender. The agreement is expected to be in place by the time the company updates the City on its annual results in June.
In 2015 Hornby shares were changing hands for over £1 but several torrid years punctuated by profit warnings, cash calls and leadership changes have had a dramatic effect on the company's value. Things got so bad in 2016 that the former Top Gear presenter James May intervened, urging Britons to "buy a train set today" in an attempt to shore up…