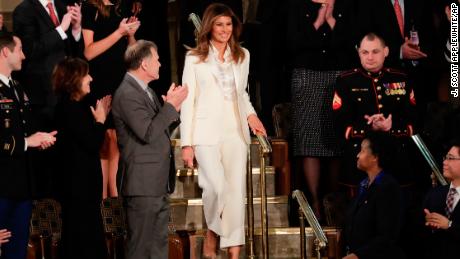 Similarly, on January 20, what could have been a day to celebrate the one-year anniversary of her husband's presidency, the first lady tweeted a somewhat cryptic message about her own first 365 days in office: "This has been a year filled with many wonderful moments. I've enjoyed the people I've been lucky enough to meet throughout our great country & the world!"
Above the sentiments, a photo of Melania Trump on Inauguration Day, her arm snugly placed, not through that of her husband, but rather a military escort. In fact, there was no mention at all of Donald Trump, an oversight that, considering how her 2018 was going so far, was perhaps predictable.
But as mounting speculation about the state of the Trump union continued to grow — even reaching the hallowed comedy halls of NBC's "Saturday Night Live" — Grisham lashed out on Twitter, attempting to tamp down the growing media swirl.
"BREAKING: The laundry list of salacious & flat-out false reporting about Mrs. Trump by tabloid publications & TV shows has seeped into "main stream media" reporting. She is focused on her family & role as FLOTUS – not the unrealistic scenarios being peddled daily by the fake news."