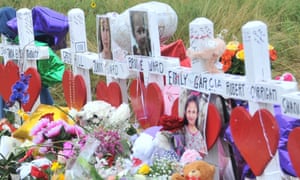 Conspiracy theorists were arrested at the site of the Sutherland Springs church mass shooting after harassing families and survivors with death threats and taunts about their deceased loved ones, residents said.
Robert Ussery, 54, was charged with making a "terroristic threat" on Monday after he showed up to the First Baptist church in Texas and and allegedly threatened to "hang" the pastor, who lost his 14-year-old daughter when a gunman killed 26 people in November. Ussery shouted profanities at the pastor, Frank Pomeroy, and demanded proof that his daughter had died and that the shooting was real, according to witnesses. Jodie Mann, a woman who showed up with Ussery, was also arrested for trespassing.
The case appears to be the latest example of viral online conspiracy theories leading to real-world harassment and abuse of gun violence victims and grieving families in the US. In recent years, conspiracy theorists have repeatedly spread false claims that mass shootings were staged and have attacked survivors as "actors" – a form of harassment that has intensified in the wake of the recent Florida high school shooting.
"He taunts people on the internet and in person," Sherri Pomeroy, the pastor's wife, told the Guardian on Tuesday, referencing Ussery. "He says, 'Produce me a death certificate,' like we have to prove something to him … He was spouting all this hatefulness."
The small town of Sutherland Springs, which has a population of just a few hundred, was thrust into the national spotlight last year when a gunman killed 26 worshippers in one of the deadliest mass shootings in modern US history. In recent months, Ussery – who is from Lockhart, Texas, one hour north of the church – has repeatedly targeted Sutherland Springs residents with harassing comments, both in town and online, according to Sherri and other locals.