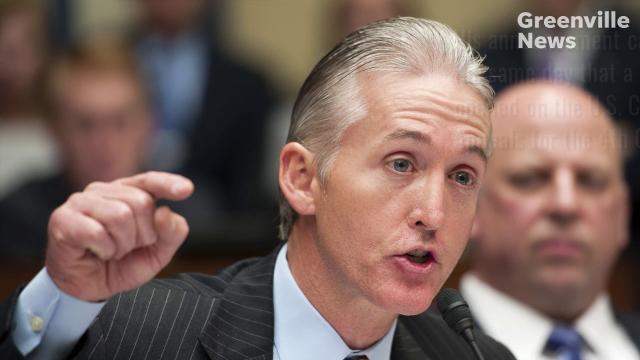 After representing Greenville, Spartanburg and other areas of the Upstate in Congress since 2010, U.S. Rep. Trey Gowdy announced via Twitter Wednesday morning that he will leave politics and return to the justice system. Lauren Young/Digital Producer
Five days after announcing to the world he was leaving Congress at the end of his term, U.S. Rep. Trey Gowdy walked his dogs, Jury and Bailiff, in the rain outside his home in Spartanburg.
Minutes later the 53-year-old chairman of the powerful House Oversight Committee, who led a controversial investigation into the attack on the U.S. compound at Benghazi, said he had no problems in walking away from the congressional limelight.
In fact, he told The Greenville News, he is through with politics at any level.
"When you leave you have to leave," he said, "and I am at total peace with that."
It wasn't so much disillusionment with Beltway politics, he said, as a realization that the sand in the hourglass was falling and he had been in public life "enough."
Also: Firing squads in SC? Some say new bill complicates execution debate
His epiphany came in December, he said, as he watched his son fill out an application to the state bar and daughter complete an application to law school on the same table they once played with Legos and fought over Crayons.
"I have been in public life almost every day of their lives," he said. "It's the one commodity no matter how hard you try or how much money you have, you can't get more of it. Six years in the U.S. attorney's office, 10 as the (solicitor) and eight in Congress — it just struck me as enough."
Not that he will leave Congress or its prominent stage anytime soon. His term ends in January. He remains a member of the House Intelligence Committee and just helped draft a controversial memo critical about the process used to obtain approval for surveillance of a Trump campaign adviser. He said his oversight committee likely will look into the sexual-abuse scandal involving U.S. women's gymnastics.
"I'll be there until the last vote on the last day," he said.
His friends in Congress and in the Upstate, some of whom were surprised at his announcement, say he will be missed.
More: Gowdy has represented constituents and the state well: Editorial
U.S. Sen. Tim Scott, whom Gowdy describes as a close personal friend, said he cherished Gowdy's self-deprecating humor, his "positive, uplifting direction," and his wisdom.
"I think it's a loss for the nation and a gain for his family," Scott said of Gowdy's departure. "What Congress will miss about Trey is he is the go-to person to cross-examine witnesses. He has a nose for the truth and solid instincts as a prosecutor in search of that truth."
Scott said for him, Gowdy "was a guy you could count on, who had a great sense of humor, who could make fun of himself and give you wise advise because he was anchored."
U.S. Rep. Jeff Duncan of Laurens entered Congress the same year as Gowdy and said Gowdy's legal skills will be missed.
"Trey was the right person at the right time for Congress to do what he was trained to do, which is to interrogate a witness and lead them down a path they really didn't want to go down," he said.
But Harold Watson Gowdy never burned with political ambition.
Pink seersucker
The son of a doctor with no family ties to a practice in law, Gowdy majored in history at Baylor University in Texas. He describes himself as a "history major who knew no history," which he said limited his options.
He said he talked his father into loaning him the money to attend law school at the University of South Carolina, where he said he was "lost" for his first year.
"It would not have surprised me when my first-semester grades came back if they politely asked me to go do something else for a living," he said.
Instead, he "slowly but surely figured it out," and by graduation became a member of the Wig and Robe, a law school honor society.
From there he clerked for U.S. District Judge Ross Anderson for two years, where he "got to watch phenomenal lawyers." His time with Anderson, he said, "was tough love."
"He does not have the gift of encouragement," Gowdy said. Nonetheless, he enjoyed his time as clerk so much that his daughter's middle name is Anderson.
Beattie Ashmore, a Greenville lawyer and friend of Gowdy, said he met Gowdy at the U.S. attorney's office, where Gowdy worked after his clerkship ended.
"He's very smart, very hard-working and very driven," he said.
Ashmore and Gowdy worked on a drug task force together and tried cases of all types in federal court.
Gowdy said he was drawn to the federal prosecutor's job because he liked being on the side of law enforcement and was lured by the notion of working alongside the FBI, the Drug Enforcement Administration and Secret Service.
"It takes about 25 trials to figure out whether you are any good at it or not," he said. "At some point I just decided I loved it and I would rather be in a courtroom than anywhere in the world."
After six years Gowdy decided he was ready to run for the top prosecutor's job in Spartanburg County against the long-time incumbent.
"I told him he was crazy to run, but he did and he won, and that tells you a lot about Trey," Ashmore said.
There he paired with Barry Barnette, who had been a county judge before Gowdy hired him as his deputy solicitor. The duo tried a string of murder cases they did not lose, including multiple death-penalty trials.
"You won't see a more gifted person in a courtroom," said Barnette, now solicitor. "He was a natural."
Rick Vieth, a Spartanburg lawyer who battled Gowdy in court when Gowdy was a prosecutor, described Gowdy as well-prepared, competitive and fair.
"You knew you were going to have a battle when you went in there," he said.
The…