Here is another quote from the home affairs committee hearing. This is from the Conservative MP Tim Loughton, a committee member. Referring to Twitter, he said:
This is not about taking away somebody's rights to criticise somebody whose politics they don't agree with.

It's about not providing a platform – whatever the ills of society you want to blame it on – for placing stuff that incites people to kill, harm, maim, incite violence against people because of their political beliefs in this case.

Frankly, saying 'this is a problem with society' – you can do something about it. You are profiting from the fact that people use your platforms and you are profiting I'm afraid from the fact that people are using your platforms to further the ills of society and you're allowing them to do it and doing very little, proactively to prevent them.
I'm off to the Number 10 lobby briefing now. I will post again after 1pm.
Philip Hammond, the chancellor, has objected to the way the Daily Telegraph reported what happened at yesterday's meeting of the cabinet sub committee leading on Brexit strategy. (See 10.06pm.) But he has not objected to other reports. Here's the Guardian's.
Philip Hammond, the chancellor, and Amber Rudd, the home secretary, suggested that it was for those seeking to diverge from EU rules to prove that the benefits would outweigh the costs case by case. "It's about choosing the ground and the time on which we fight," an ally said.

Mr Hammond, scarred by accusations that he was seeking to thwart Brexit, took care to appear positive about the chances of securing a beneficial deal with the EU. "He was notably upbeat about the range of scenarios that would work and the chances of getting one of them," according to one of the ten members of the Brexit strategy and negotiations sub-committee.
Theresa May is to seek what foreign secretary Boris Johnson once called a "have our cake and eat it" Brexit, after senior cabinet ministers backed her plan to push for an ambitious trade deal with the EU coupled with regulatory divergence from the bloc.

Chancellor Philip Hammond is among the cabinet members backing the prime minister in her plan to explore the possibility of combining the best of both worlds outside the EU, despite warnings from Brussels against wishful thinking …

Mr Hammond epitomises the more bullish cabinet mood. While once he mocked Mr Johnson's assertion that Britain could "have its cake and eat it", he now wants to explore the trade-offs between more regulatory autonomy and EU market access.

One ally of Mr Hammond said his position had shifted from the days when he believed Britain should remain part of the EU single market and customs union. "He thinks we should go fighting for everything," added this person.
In her overnight story, based on an interview with Michel Barnier, the EU's chief Brexit negotiator, my colleague Jennifer Rankin said that Barnier showed EU leaders a paper last week illustrating how the UK's Brexit red lines meant a Canada-style trade deal was the only option.
Jennifer has now tweeted a picture of the Barnier chart.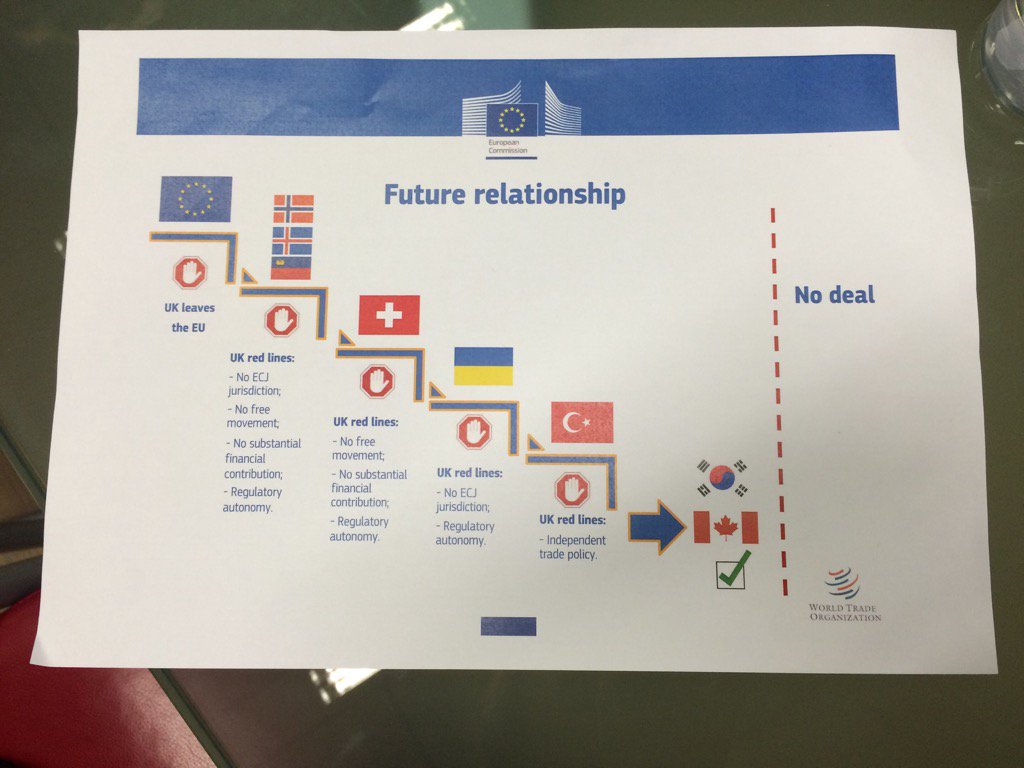 The flag on the left is the EU flag. The vote to leave rules out EU membership.
Next it shows the flags of Norway, Iceland and Liechtenstein (European Economic Area members). But UK red lines rule out that option.
Next there is the Swiss flag (Efta, the European free trade association). That's out too.
After that comes the Ukraine flag, representing the association agreement the Ukraine has with the EU. But that is incompatible with the UK's demands.
That leaves Turkey, which is in a customs union with the EU. But that model is out.
At the home affairs committee hearing this morning Twitter was criticised for repeatedly failing to remove antisemitic and abusive tweets which were flagged by MPs. Yvette Cooper, the Labour MP who chairs the committee, said it was hard to believe that enough was being done to tackle hate crime, with posts reported months ago still remaining on the platform.
As the Press Association reports, Cooper said no action had been taken against anti-Semitic tweets shown to representatives of Twitter at a previous hearing. They included abuse directed at Labour MP Luciana Berger, who has been a high-profile target of online trolling, which has already been flagged to the platform twice.
Addressing Twitter's Sinead McSweeney, vice president of public policy and communication for Europe, the Middle East and Africa (Emea), Cooper said:
I'm kind of wondering what we have to do. We sat in this committee in a public hearing and raised a clearly vile antisemitic tweet with your organisation.

It was discussed and it is still there, and everybody accepted, you've accepted, your predecessor accepted, that it was unacceptable. But it is still there on the platform.

What is it that we have got to do to get you to take it down?

And part of the problem is, it's like even when we raise it in a forum like this, nothing happens. It's very hard for us to believe that enough is being done when everybody else across the country raises concerns.
McSweeney said she did not know why the tweets had not been removed, telling MPs: "I will come back to you with an answer as to why they are still on the platform."
Cooper also said her office had also reported a series of violent tweets, including threats against Theresa May, a former prime minister, and racist abuse towards shadow home secretary Diane Abbott, which had not been taken down.
And she disputed McSweeney's suggestion that offensive tweets would normally be removed from the site within two days of being reported. Cooper said:
David Lidington, the justice secretary, has now published a written ministerial statement about the government's response to David Lammy's report on racial discrimination in the justice system. The full response is here (pdf). As the Guardian reported overnight, most of the recommendations are being accepted and the government will consider one of the most radical proposals, for deferred prosecutions schemes under which suspects can enter rehabilitation programmes without having to admit guilt.
But the government has not adopted Lammy's plan for diversity targets for a representative judiciary and magistracy by 2025.
In an interview on the Today…