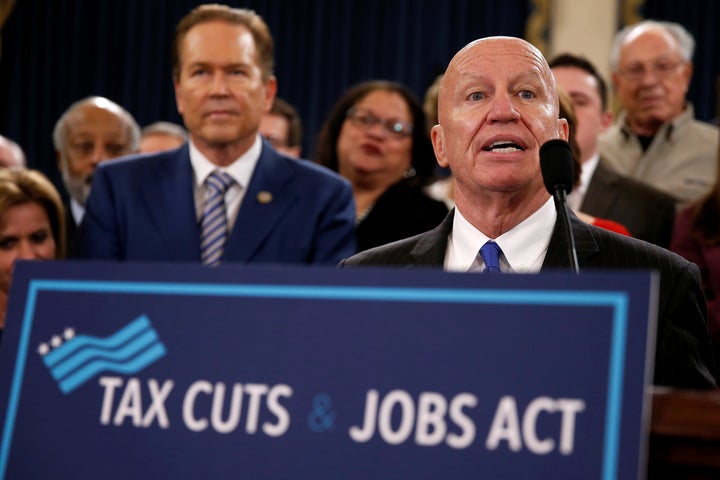 WASHINGTON ― The GOP tax overhaul overwhelmingly benefits the wealthiest people in America, according to several estimates. But Republicans say you can't trust any of those.
Over 47 percent of the tax changes in the legislation would benefit the richest 1 percent of households over 10 years, a report released Wednesday by the Tax Policy Center said.
Wednesday's report closely resembles an analysis TPC issued on Monday, which the group quickly retracted because of an error ― which Republicans have said is all the more reason not to believe them.
Two controversies dominate the debate over how to analyze a tax bill: debt and distribution. Tax changes affect the amount of revenue the government collects, and Republicans disagree with most experts, who say their tax reform legislation would reduce revenue by more than $1 trillion over 10 years. GOP lawmakers would rather just take it on faith that tax cuts create growth and pay for themselves.
The other controversy Republicans take issue with is the question of whose taxes would go down and whose would go up. Republicans say their bill would reduce taxes for everybody, but TPC says 7 percent of households would face higher rates next year and 25 percent would pay more in 10 years.
Rather than debate the merits of their tax proposal based on these facts, Republicans want to debate the facts themselves.
Rep. Kevin Brady (R-Texas), chairman of the tax-writing House Ways and Means Committee, blasted the "liberal Tax Policy Center" in a radio interview Tuesday morning, noting that the group withdrew its analysis after a mistake. Later that day, in an interview with HuffPost, he didn't let up.
"You know, they're the gang that can't compute straight," Brady said. "They had a tax analysis before there was a bill. Now they have one they had to abandon within hours. I don't know how many strikes you get before you're out."
When HuffPost asked whether it said anything about the organization that it was upfront about its mistake ― that TPC withdrew its analysis entirely when it discovered an error ― Brady pointed to what he called the earlier "imaginary analysis" TPC did when Republicans released their tax framework in September.
"They didn't even admit that there was no tax bill to score," Brady said. "So, look, there's a lot of credibility that's gone there." (In fact, TPC was very transparent about how it analyzed the tax framework Republicans put forward. The center used similar Republican proposals from the past year to fill in gaps in the plan.)
In its Monday report, the center underestimated the amount that some households would benefit from an expanded child tax credit in the Republican bill. The updated report reduces the number of households that would face a tax increase a decade from now by about 3 percentage points. Also in the new report, the total tax benefit accruing to the richest 1 percent of households has declined from 48.4 percent to 47.2 percent.
Brady isn't the only Republican criticizing TPC. President Donald Trump's top economic adviser, Kevin Hassett, said in October that it was "scientifically indefensible" for TPC to downplay the positive economic feedback that tax cuts could create, despite a consensus among most economists that tax cuts don't spur the kind of growth Republicans are hoping…