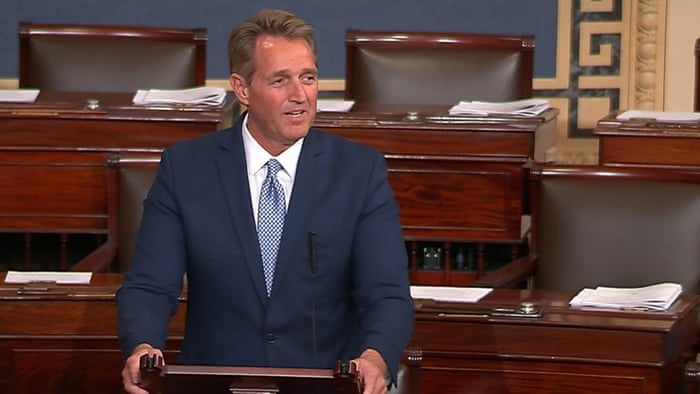 Arizona senator Jeff Flake on Tuesday launched an extraordinary attack against Donald Trump and the "complicity" of the Republican party while announcing his decision to leave the Senate.
Flake, a key Republican critic of Trump, said he was retiring at the end of his term in 2018 because there was no room for him in the party under the current president's stewardship. He then delivered an emotional appeal from the Senate floor against the state of affairs under Trump, bemoaning that his Republican colleagues had "given in or given up on core principles in favor of a more viscerally satisfying anger and resentment".
"It is time for our complicity and our accommodation for the unacceptable to end," Flake said. "There are times when we must risk our careers in favor of our principles. Now is such a time.
"We must never allow ourselves to lapse into thinking that that is just the way things are now," he added. "We must stop pretending that the degradation of our politics and the conduct of some in our executive branch are normal."
"Reckless, outrageous, and undignified behavior has become excused and countenanced as 'telling it like it is' when it is actually just reckless, outrageous, and undignified."
He said such behavior was "dangerous to our democracy" and projected not strength but a "corruption of the spirit". He then asked his colleagues: "When the next generation asks us: 'Why didn't you do something? Why didn't you speak up? What are we going to say?'"
Flake joins a list of high-profile Republicans who have jumped ship in recent months amid the turmoil of Trump's presidency. Bob Corker, the chairman of the Senate foreign relations committee, declared his retirement last month and has since been locked in a bitter feud with Trump that reached new heights on Tuesday.
Hours before Flake's announcement, Trump's war of words with Corker escalated in unprecedented fashion ahead of a meeting between the president and Senate Republicans on Capitol Hill. Prior to the closed-door luncheon, Corker branded Trump as an "utterly untruthful president" on NBC's Today Show.
In a separate interview with CNN, Corker went even further, stating of the president: "I don't know why he lowers himself to such a low, low standard and debases our country in that way but he does."
Coupled with Flake's scathing remarks on the Senate floor, the growing list of Republicans sounding the alarm over Trump's presidency marked a potential watershed moment within the party.
Several prominent Republicans have spoken out, albeit in veiled terms, against so-called "Trumpism" in recent weeks. McCain, who represents Arizona alongside Flake in the Senate, denounced "half-baked, spurious nationalism" in a speech last week that also decried the abdication of US leadership on the global stage. Days later, George W Bush condemned bigotry while declaring American politics "more vulnerable to conspiracy theories and outright fabrication".
Sarah Huckabee Sanders, the White House press…