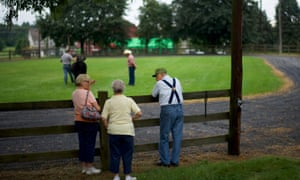 Leaning over a table stacked with "Resist!" buttons and "Impeach Trump" stickers, Kathy Harrington pointed to the offending spot. "It's probably still there somewhere," she said.
Harrington, 56, was inviting attendees of the annual Musikfest bash in Bethlehem, Pennsylvania, to sign up to support progressive causes – and to protest against Donald Trump.
Interactions with festival-goers over two busy weekends on Main Street in Bethlehem had been "about 75% positive, about 25% negative, and of that I would say maybe 10% more in-your-face negative," said Harrington, who was wearing a pink "I stand with Planned Parenthood" T-shirt.
And then there was one guy who "just looked at us and spit", said Sandra Davis, 58, a colleague of Harrington, who pointed out the evidence still evaporating from the pavement.
"They feel empowered," Davis said of Trump supporters since the election. "They're given voice. The louder and the more vulgar, the better."
Images from the night before of white supremacists carrying torches in Charlottesville, Virginia, were deeply disturbing but not surprising, said another activist, Ginny Atwell.
"I think his core base are the true deplorables," Atwell, 72, said of Trump. "The white supremacists. He's delivering exactly what they wanted. White male supremacy."
"No women and no minorities," said Harrington.
"And keep everybody else out," said Atwell.
Whatever it is that might be changing about America under Donald Trump, it seems, an improvement in the quality of political discourse in reflexively moderate places like Northampton County, Pennsylvania, is not part of it.
Once the home of the country's second-biggest steel manufacturer, Bethlehem is the Democratic heart of a region that may be turning more Republican – unless it isn't. The county voted twice for Barack Obama before falling for Trump. The Guardian has been reporting from the area over the last eight months to test the political winds and to gauge whether voters here feel that the Trump presidency is living up to its promise.
The current national turbulence, and Trump's role in it – with his reluctance to call out white supremacists in Charlottesville and his saber-rattling over North Korea – has laid bare local divisions. Trump supporters generally cheer the president's attack-dog instincts, while critics say Trump's character and style have emboldened violent expression and created flare-ups of racial and ideological tensions locally.
Down the street from Harrington's table, Bill Kuzman, 65, who grew up in the area, was watching a youthful blues act perform. Wearing an NRA cap and a tropical shirt, Kuzman said he thought the president's aggressive rhetoric on North Korea – "locked and loaded", "fire and fury" – was "absolutely great."
"I'm glad he's in there right now," Kuzman said. "Sometimes you got to smack the bully. Like in school. I don't know how things are going to pan out, but if Korea does something to us, I don't think he's going to think twice about going in, and I support that."
But Kuzman was not a foreign policy voter. "From my understanding and research on Trump, he does believe in Christian values," Kuzman said. "And he does not believe in abortion, and he does not believe in gay marriages. To me those are the top three issues. I don't care who is running."
Harrington, the progressive activist, said she'd heard that kind of line from other Trump supporters.
"One person said, 'I'm really religious and that's why I voted for Trump'," said Harrington. "Which doesn't make any sense at all, because he's like, the exact opposite of any Christian thing you could ever think of."
'He speaks to the common man'
Oliviamarie Staniec guided her spring heifer to the middle of the show ring. The nine-year-old had a holster for her grooming brush, a show stick a foot taller than she was, and a side ponytail. She stopped her animal and hooked one of its shanks to line up its legs. Her careful eyes followed a judge with a cowboy hat and a belt buckle as he looked the calf over.
"She did a very nice job as far as clipping on this animal. Did a very nice job squaring those legs," said the judge over a…