Sign up to receive the Balance of Power newsletter in your inbox, and follow Bloomberg Politics on Twitter and Facebook for more.
Welcome to Balance of Power, Bloomberg's new daily newsletter on global politics. We took a hiatus after the U.S. presidential election and now aim to pull the lens back for a broader look at the people and the forces that shape our world. The stories here will take us from Washington to London to Beijing, and all points in between.
We hope you enjoy it.
— John Fraher and Craig Gordon (executive editors of global and U.S. political coverage)
The Globalist vs. the Nationalist
In the end, the globalists breathed a sigh of relief.
Nationalist firebrand Marine Le Pen didn't quite pull off the kind of breakout performance in the first round of the French presidential election that would have raised fears about a Trump-like shock in two weeks time. Polls conducted after centrist Emmanuel Macron won the first round of the French presidential election show him beating her by wide margin in the May 7 runoff. Markets agree, with French stocks surging and the euro hitting its highest level since November.
That said, the results showed a deeply divided nation. More than 40 percent of voters opted for candidates who want to overturn the existing political order. That gives Le Pen a large reservoir of discontent that she can tap into. And it will be hard for Macron, a former investment banker, to argue he represents a break from the establishment.
So expect an ugly second round in which Le Pen tries to put down a marker for an eventual victory five years from now.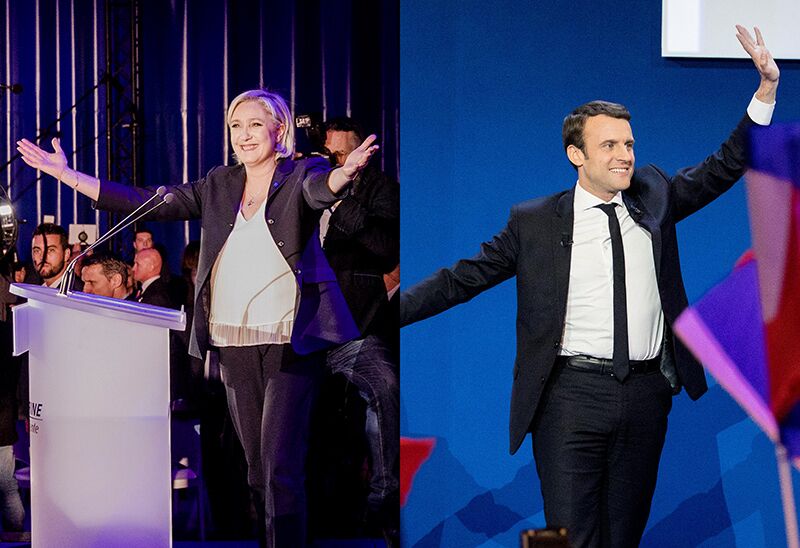 Follow Bloomberg's coverage of what happens next on our special election page here.
Elsewhere Around the Globe
U.S. Shutdown Hinges on Trump Demand | U.S. lawmakers have until week's end to avert a government shutdown with a new budget. If President Donald Trump sticks to his call for