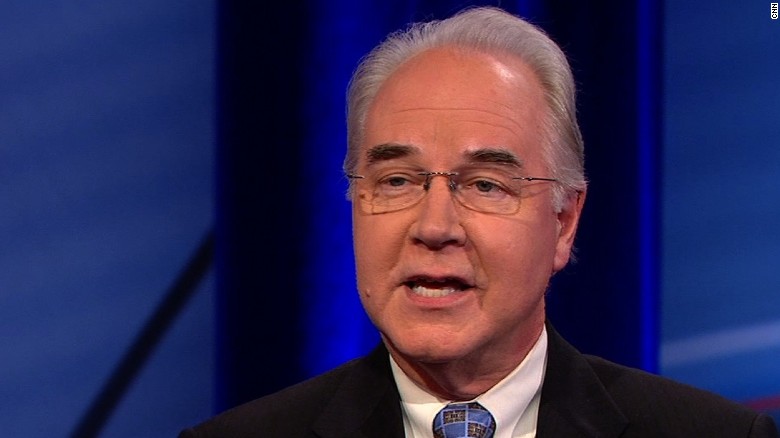 (CNN)Health and Human Services secretary Tom Price — a former congressman and a longtime critic of Obamacare — forcefully defended the House Republican plan to repeal and replace Obamacare on Wednesday night, even as the legislation continues to face fierce backlash and bleed support.
"We believe strongly, strongly, that the plan we put together is so much better than the one that's there now," Price said a special CNN town hall event moderated by CNN's Wolf Blitzer and Dana Bash.
A physician by training, Price is now responsible for selling the Republican Party's controversial plan to overhaul the Affordable Care Act to his former colleagues in Congress and the public. Throughout the hour-long town hall, he fielded emotionally charged questions on topics ranging from funding for Planned Parenthood to whether the new plan would allow parents to choose whether they vaccinate their children and how patients would pay for addiction treatment.
One statement that Price had to stand by was his recent promise that nobody will be "financially worse off" under the Republican proposal. After an audience member named Teresa Caliari expressed concern that older Americans would see their premiums hiked under the GOP plan, Price was asked whether he could ensure that Caliari wouldn't be hurt financially.
He demurred, saying simply: "I don't believe you'll be worse off from a health care standpoint."
In recent days, GOP congressional leaders and the White House have furiously tried to assuage a range of concerns voiced by rank-and-file Republicans to ensure that they have the 216 votes needed for the bill to pass in the House.
Conservative Republicans, in particular, have been outspoken in their criticism. Some have asked House Speaker Paul Ryan to vote on a "clean repeal" Obamacare bill first — and then turn to the task of replacing the law through separate legislation.
Price, however, knocked that suggestion down on Wednesday, saying that would pull the rug out from under too many Americans. "We could just be repealing it. But the fact of the matter is, that would leave many Americans behind," he said.
On whether the GOP bill would be approved in the House despite the claim from House Freedom Caucus Chairman Mark Meadows Wednesday night that there were enough votes to tank it, Price said Republicans would pass the bill by trying to "listen to the principles that the American people have told us are dear to them on health care."
Also complicating matters for supporters of the House Republican plan is a new analysis from the Congressional Budget Office this week that predicted that the House GOP bill to repeal Obamacare would result in some 24 million more…