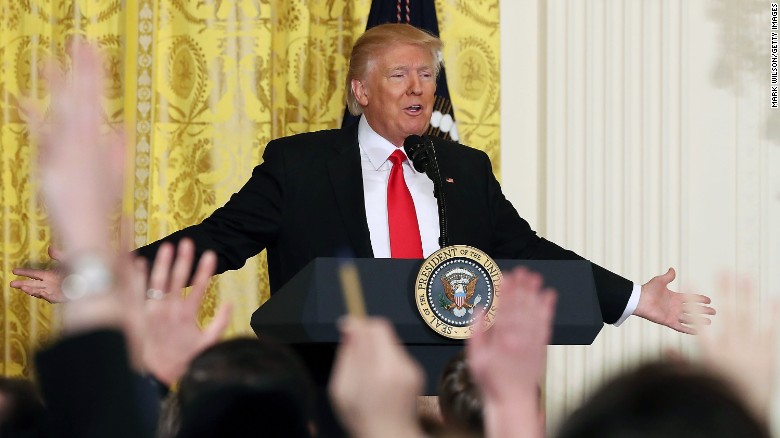 Reeling from a week that included firing his national security adviser, the withdrawal of a Cabinet nominee and persistent questions over alleged collusion between his campaign and Russia, Trump is aiming to regain control of his nascent administration by putting himself back in the spotlight.
The centerpiece of the effort: a return to the scorched-earth politics that served him so well on the campaign trail. That was on display Thursday when Trump cranked up the political theater during an extraordinary news conference that transferred the seething air of grievance from his campaign rallies to the ornate splendor of the East Room of the White House.
He'll continue his campaign-style reboot Saturday with a rally in Florida, reuniting with the devoted supporters who view Trump as a political crusader dedicated to the obliteration of Washington's elites.
Through it all, he's breaking free from the confines of his office and the formality of the White House to fire up the free-wheeling, media-bashing brand of attack-dog politics that powered his stunning takeover of the Republican Party and underpinned his even more surprising presidential election win. Though much of official Washington was stunned by Trump's news conference, the President knew exactly what he was doing, seeking a relaunch for his administration and a pivot away from stories of a White House in disarray.
"We had an interesting news conference, didn't we?" Trump told lawmakers and reporters during a bill signing ceremony later Thursday, clearly relishing his performance.
Since taking office, Trump's pugnacious persona has at times appeared stifled by the formal surroundings of the White House. He hasn't always appeared completely relaxed, for instance, in his joint news conferences with foreign leaders.
But alone on the stage Thursday, gesturing behind his podium and locked in combat with reporters, he was in his element, ensuring the event will go down as one of the most memorable presidential news conferences in history.
Trump's ostensible purpose for the event was to announce Alexander Acosta as his new pick for labor secretary after his previous nominee, Andrew Puzder, withdrew over ethics concerns. But it was soon clear that Trump had something else on his mind and set off on his tour de force with the air of a man who wanted to get something off his chest.
"I turn on the TV, open the newspapers and I see stories of chaos. Chaos. Yet it is the exact opposite. This administration is running like a fine-tuned machine," Trump said.
Following a tumultuous few weeks that included a chaotic roll out of his travel ban on citizens…