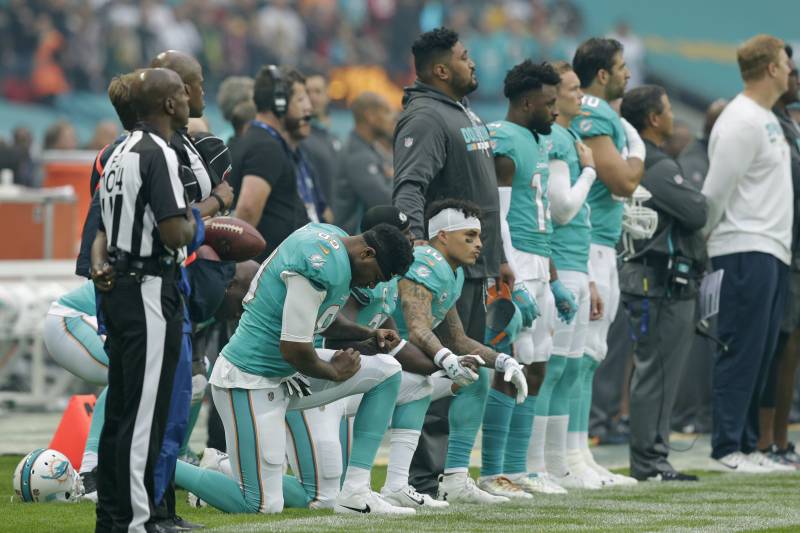 Here is what will happen if the NFL adopts a new rule requiring players to stand for the national anthem at the owners' meetings next week:
There will be much outcry on the internet, much like all the other outcry on the internet.
My colleagues and I will all write eloquent columns condemning the decision, then share them with each other.
The president will tweet about his victory, just as he prematurely tweeted about his win Wednesday morning. He will then flit off to engage in a flame war against the mayor of a disaster-ravaged city or something.
Eminem will drop a scathing rap, which will make my 40-something-year-old white colleagues and I feel empowered and relevant as we share it with each other.
Nearly every player in the NFL will stand for the anthem with little more than a grumbled "no comment" about their feelings. Dedicated firebrands like Malcolm Jenkins (who has always stood) and the Bennett brothers will issue hopeful statements about achieving their goals by other means, then take their social justice activism to their Instagram feeds. Marshawn Lynch will do whatever he wants.
By the Super Bowl, protests during the anthem will be a distant memory, and the causes they represented will be banished from the sports consciousness.
The End.
What, you were expecting a happy ending? Or at least a dramatic one, full of marches, walkouts and sit-ins?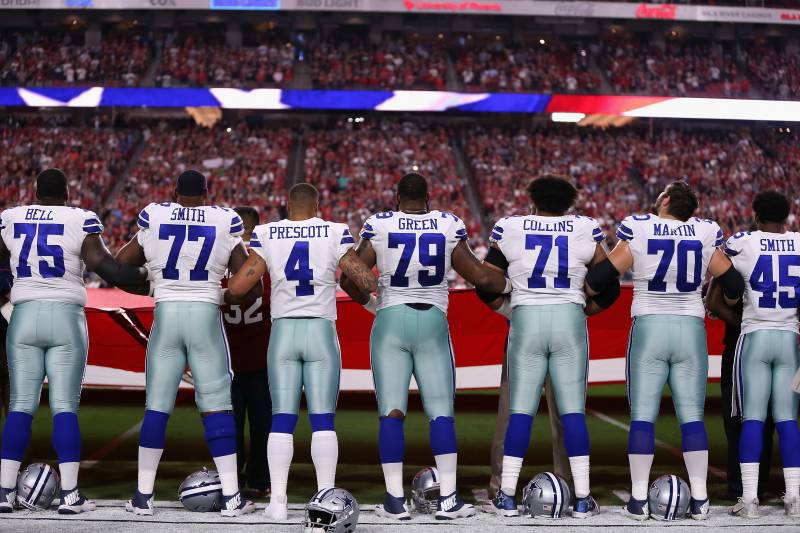 You'll have to settle for a ray of hope instead. The NFL and NFLPA issued a joint statement Wednesday afternoon, stressing that there was "no change in the current policy" and that players, union leadership and Commissioner Roger Goodell were "coming together to deal with these issues in a civil and constructive way."
So, for now, unilateral action and angry-grandpa rhetoric about forcing players to their feet like convicts on a chain gang is out. Constructiveness and a spirit of compromise are in.
It's a reassuring step back from the abyss of the early week, when Jerry Jones announced a stand-or-else policy for the Dallas Cowboys, who responded Wednesday afternoon with a series of team meetings and uneasy radio silence with the media. Things appeared to be heading toward an ultimatum next week. Instead, we appear to be heading toward a civil conversation.
The White House cannot be pleased.
Still, the current truce between the NFL and its players is fragile.
All the NFL ever wanted to do was make the protests during the anthem go away. It was the most honest statement in Tuesday's mealy-mouthed soggy waffle of a memo from the commissioner's office to the owners: the league wants to "move past this controversy" surrounding the protest.
In a climate where Hollywood, Broadway and television networks are fodder for presidential tirades and the cultural aftershocks they cause, Goodell wants the NFL to remain all things to everyone, a "unifying power" in the crucial sense of remaining a safe harbor for nervous advertisers.
But it was impossible to be apolitical after the president put the NFL in his crosshairs during one of his grievance-airing rallies nearly three weeks ago. Lest the…