Donald Trump flew to Texas on Tuesday to view the trail of destruction from tropical storm Harvey that has killed at least 15 people, displaced tens of thousands and defied conventional measurements.
But Houston was braced for fresh damage as a vital dam began overspilling and more rain was forecast in the continued onslaught from one of the worst natural disasters in US history.
Trump and Melania, the first lady, touched down on Tuesday morning for briefings on relief and response. The couple avoided Houston and the other hardest hit areas amid concerns that the logistics could hamper relief efforts.
Trump has been active on Twitter and is eager to avoid comparisons with George W Bush, who was much criticised for his response to Hurricane Katrina in New Orleans a decade ago.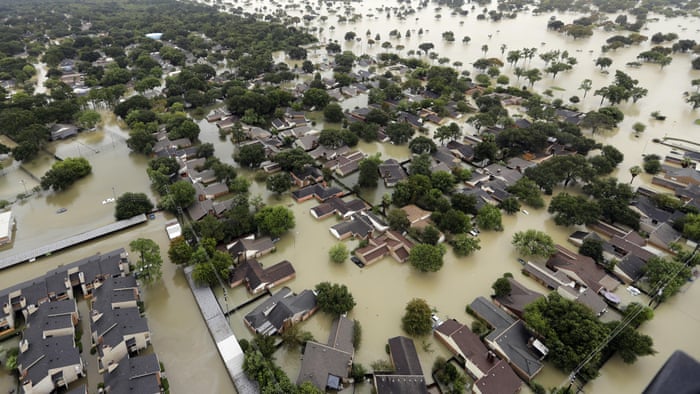 The president said in Corpus Christi, Texas: "It's a real team and we want to do it better than ever before. We want to be looked at in five years, in 10 years from now as, 'This is the way to do it.' This was of epic proportion. Nobody's ever seen anything like this and I just want to say that working with the governor and his entire team has been an honour for us."
He added: "We won't say congratulations. We don't want to do that. We'll congratulate each other when it's all finished."
Greg Abbott, the Republican governor of Texas, expressed gratitude. He said: "About 10 days in advance of the hurricane, even coming in to the Corpus Christi area, members of the president's cabinet and the president himself were in contact with me and my office pre-preparing for this catastrophe coming our way.
"Every step of the way as the hurricane came across the shore, as the flooding began in Houston, Texas, the president and his cabinet remained in constant contact with me and my staff, and they all had one thing to say: 'Texas, what do you need? How can we help?'"
Trump came out of the Annaville fire house and got up on a ladder between two fire trucks. "Thank you," he said to applause. "We love you, you are special, we are here to take care of you. It's going well." He then held up the Texan flag to loud cheers.
"What a crowd, what a turnout," he added.
Later, Trump visited the Texas Department of Public Safety where, according to a pool report, there was a sizable anti-Trump demonstration, with signs saying "Nyet" and "Impeach little hands".
Wearing cap and raincoat, Trump told scores of disaster responders: "I will tell you, the whole country and the whole world is really seeing and gaining such respect for everybody. The job you have done is incredible, what we have done is under circumstances, I said before, the word 'epic' and 'historic', these are words used to describe this monster known as Harvey, but the job you have done is special."
Accompanied by housing and urban development secretary, Ben Carson, Trump could not resist passing comment on the name Harvey.
"Probably there has never been anything so expensive in our country's history, we've never done anything so historic in terms of damage and in terms of ferocity as what we've witnessed with Harvey. It sounds like such an innocent name, Ben, right, but it's not innocent."
Harvey made landfall near Corpus Christi on Friday evening as a category 4 storm with 130mph winds. It has since been downgraded to a tropical storm but has set…