(CNN)US President Donald Trump found himself more isolated than at any point in his presidency on Thursday, cast aside by business allies, condemned by prominent Republicans and the subject of a rare, if coded rebuke from two living predecessors.
The backlash over his failure unequivocally to condemn racism and white supremacy, in the aftermath of violent far-right protests in Charlottesville at the weekend, culminated in the rancorous dissolution of two business advisory panels and an avalanche of condemnation from across the political spectrum.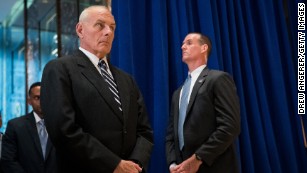 But members of Trump's administration, some of whom privately expressed exasperation over his self-inflicted crisis, remained loyal in public. Vice President Mike Pence, who unexpectedly cut short a visit to South America to return for meetings at the Camp David presidential retreat, said he stood by Trump and his comments.
Republicans were divided in their response. Some condemned Trump by name, but others confined themselves to more general disavowals of racism and white supremacy.
Trump remained defiant on Thursday, castigating his critics in early-morning tweets, claiming he was misrepresented by the media.
The crisis was ignited by Trump's equivocal response to the violence at a "Unite the Right" gathering in Charlottesville on Saturday. A woman was killed and more than 30 people injured after a car, driven by a "Unite the Right" supporter, rammed into a crowd of counter-protesters.
Trump first blamed "many sides" for the trouble, before issuing a fuller condemnation of the violence and white supremacy on Monday. But on Tuesday, at an impromptu Q&A at Trump Tower in New York, reverted to his initial equivocation, saying there was "blame on both sides." His response has been widely condemned by political leaders across the country as well as internationally.
Trump won the presidency in 2016 on his reputation as a business leader, pledging to work with the country's corporations to "make America great again".
But on Wednesday Trump announced he would be disbanding his two business advisory groups, after eight business leaders resigned in three days.