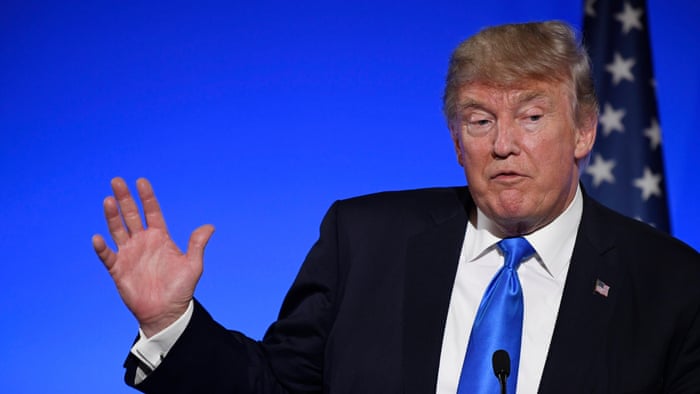 Donald Trump has defended his son in public over his meeting with a Russian lawyer last year, telling a press conference in Paris "most people would have taken that meeting" and ignoring questions about whether offers of political assistance from potential agents of foreign governments should be reported to the FBI.
Pre-empting the New York Times, which first reported the meeting, Trump Jr this week released emails in which he appeared eager to accept information from the Russian government that could have damaged Hillary Clinton's presidential campaign.
An intermediary had told Trump Jr the contact was a Russian government lawyer who could provide information damaging to Clinton.
Trump Jr, who is not a member of the Trump administration but was a prominent campaign surrogate, attended a meeting with the lawyer, Natalia Veselnitskaya, at Trump Tower on 9 June 2016.
Trump's son-in-law and adviser Jared Kushner and then campaign manager Paul Manafort were also present, and were copied on the emails released by Trump Jr. On Wednesday, Senate Democrats called for Kushner to lose his security clearance.
On Thursday, the president was appearing with Emmanuel Macron, his French counterpart. His remarks came shortly after, in Washington, the chairman of the Senate judiciary committee said he would ask Trump Jr to testify before the panel, and would subpoena the president's eldest son if necessary.
"Most people would have taken that meeting," Trump said. Describing his son as a "wonderful young man", he also said the Russian lawyer was not a government lawyer, and in the end it was a meeting that "went very, very quickly, very fast, two other people in the room. I guess one of them [Kushner] left almost immediately and the other [Manafort] was not really focused on the meeting.
"I do think this, that taken from a practical standpoint … most people would've taken that meeting. It's called opposition research, or even research into your opponent. I've only been in politics for two years, but I've had many people call up, 'Oh gee, we have information on this…