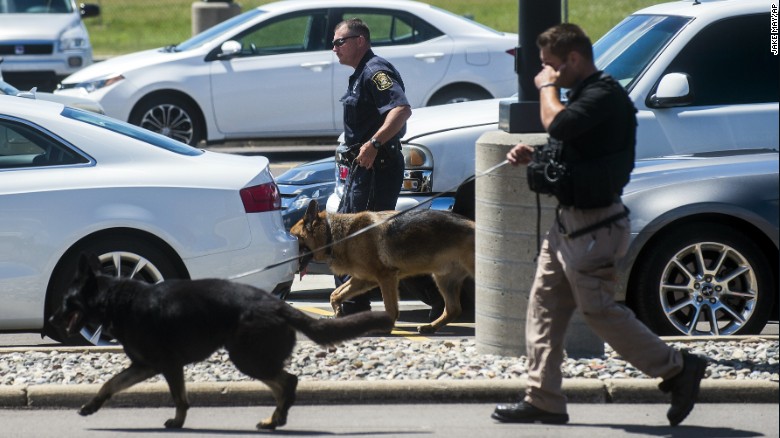 (CNN)A Canadian man yelled "Allahu akbar" before he allegedly stabbed a police officer at the Flint, Michigan, airport in what the FBI is investigating as a terrorist act, officials said.
Amor Ftouhi, 49, has been charged with violence at an international airport, acting US Attorney Daniel Lemisch said in a statement.
He had his initial court appearance late Wednesday afternoon and will remain in custody pending a full detention hearing next week, a US District Court official said.
Ftouhi could face up to 20 years in prison and more charges could be added, officials said. It wasn't immediately clear whether Ftouhi had an attorney.
On Wednesday morning, Ftouhi arrived to Flint's Bishop International Airport carrying two bags. For about 40 minutes he lingered in the airport's public areas — including a restaurant and a bathroom where he dropped his bags — before the attack, a criminal complaint said.
Authorities say Ftouhi yelled "Allahu akbar" — "God is Great" in Arabic — and pulled a roughly 12-inch knife with an 8-inch serrated blade and stabbed Lt. Jeff Neville.
After stabbing Neville, Ftouhi continued to yell "Allah" several times followed by something similar to "you have killed people in Syria, Iraq and Afghanistan, and we are all going to die," the complaint said.
"Lt. Neville got him to stop stabbing him," said Chief Chris Miller of the Bishop Airport Safety Division, who was nearby during the attack and was able to handcuff Ftouhi.
An FBI special agent said Ftouhi then asked the officer why he did not kill him, the complaint said.
…