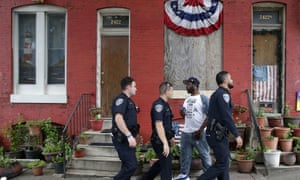 Greta Carter-Willis has spent a lot of time praying, crying and thinking at the threshold between the kitchen and dining room of her south-west Baltimore home.
It was at that spot nearly 11 years ago that a Baltimore city police officer, barely a year out of the academy, shot and killed her 14-year-old son Kevin Cooper.
"His body was laying right there," she said, gesturing. "We can make little changes, paint, take the carpet up, but it still remains the same. I have to live with that mental vision in my mind all my life … This is my home, I can't just up and move."
It was the sense of pain and injustice around that incident that brought Carter-Willis to the Baltimore federal courthouse on Thursday, to speak in favor of the agreement negotiated between the city, its police force, and the Department of Justice in the wake of the Freddie Gray case. The future of the agreement to reform the city's policing, known as a consent decree, was thrown into uncertainty Monday after attorney general Jeff Sessions released a memo asking to halt its implementation against the wishes of the city mayor, police commissioner and general public.
Despite a cold, driving rain, dozens of residents lined up for their three minutes to address the federal judge in the case and implore him not to delay the agreement, as the Trump administration requested earlier this week. Speakers represented faith groups, high school students, non-profits, law-enforcement and like Carter-Willis, mothers of those killed by police. And despite their disparate backgrounds, the overarching position of the city was clear: "Justice delayed is justice denied," as more than one speaker quoted from the Rev Dr Martin Luther King Jr.
"It was a must that I push my way down to that courthouse and let that federal judge know, please do not hold this consent decree," Carter-Willis told the Guardian. "It's too late for my son, but it will help somebody else's child and it will make it better for the next generation and it's a right step for this department. It's a right step for this city to have them be accountable to another agency. Because as long as they're policing themselves, it's not gonna get any better."
Late Friday, a federal judge agreed with Carter-Willis and the others who trudged out to throw their weight behind the agreement, tossing out Sessions' request for more time. Still, the saga clearly indicates that project of cultivating progressive reform in police departments nationwide no longer has an eager partner in Washington DC.
It was just a plastic dustpan
As is the case in many fatal police incidents, it was Carter-Willis herself who called 911 in 2006, hoping for some assistance as her son experienced an emotional disturbance. He had knocked over his TV during an argument, and tossed some clothes out the window. Normal teenager stuff, as Carter-Willis described it.
After a short chat with officers the situation had resolved enough that one of the responding officers left. The second, Roderick Mitter, stayed behind to finish up paperwork when tensions ratcheted back up.
"The officer walked past and Kevin was mumbling," Carter-Willis said. "The officer asks him 'what are you saying' and he says 'I'm not talking to you' so he just kept walking."
As Carter-Willis tells it, the officer began following the teen through different rooms, "jawing" with the teen as both grew more and more agitated. She recalls asking the officer several times to leave her home.
In the kitchen, as the rankling grew louder, Cooper picked up a plastic dustpan. "The kind you get at the 99 cent store," Carter-Willis said.
Her version and the police version begin to diverge here….