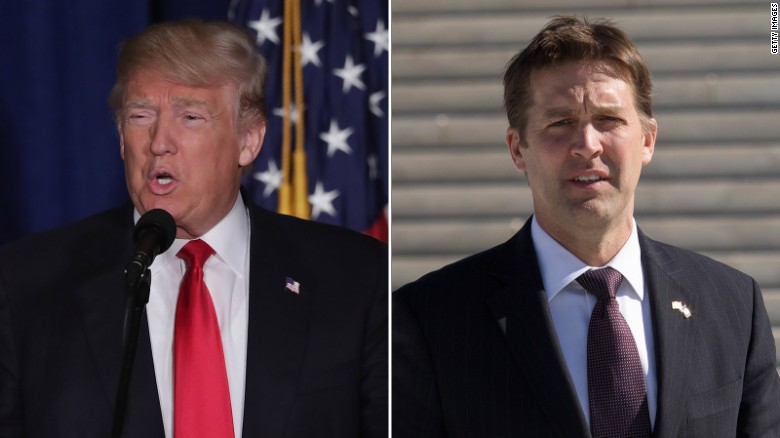 West Palm Beach, Fla. (CNN)President Donald Trump made a stunning claim Saturday, alleging without offering evidence that his predecessor, Barack Obama, wiretapped his phones at Trump Tower ahead of the 2016 election.
"Terrible! Just found out that Obama had my 'wires tapped' in Trump Tower just before the victory. Nothing found. This is McCarthyism!" Trump tweeted early Saturday morning in one part of a six-tweet tirade that began just after 6:30 a.m.
The President went on to compare the alleged tapping of his phones to Watergate and called Obama "bad (or "sick)."
"How low has President Obama gone to tap my phones during the very sacred election process. This is Nixon/Watergate. Bad (or sick) guy," Trump tweeted.
Another former senior US official with direct knowledge of investigations by the Justice Department under the Obama administration said Trump's phones were never tapped.
A spokesman for Obama, Kevin Lewis, called "any suggestion" that Obama or any White House official ordered surveillance against Trump "simply false."
"A cardinal rule of the Obama administration was that no White House official ever interfered with any independent investigation led by the Department of Justice," Lewis said in a statement early Saturday afternoon. "As part of that practice, neither President Obama nor any White House official ever ordered surveillance on any US citizen. Any suggestion otherwise is simply false."
The former senior US official with direct knowledge of the Justice Department's investigations said Obama could not have ordered such a warrant. It would have been taken to a judge by investigators, but investigators never sought a warrant to monitor Trump's phones, the former official said.
A federal judge would only have approved a warrant to wiretap Trump's phones if he or she had found probable cause that Trump had committed a federal crime or was a foreign agent.
Former Obama deputy national security adviser Ben Rhodes echoed the point in a tweet responding to Trump on Saturday morning.
"No President can order a wiretap. Those restrictions were put in place to protect citizens from people like you," he said in his Twitter post.
Warrants to tap into someone's phones in the course of a federal investigation would be sought by the Department of Justice, which conducts investigations independent of the White House and the President.
The Foreign Intelligence Surveillance Court, an independent and secretive federal court, is responsible for issuing surveillance warrants in cases concerning foreign intelligence. The FBI has been investigating contacts between Trump campaign advisers and Russians known to US intelligence, and that court would likely be the forum to petition for such a warrant.
When asked if the White House is seeking any possible FISA court documentation to back up the President's claims, several senior administration officials confirmed to CNN that White House Counsel Donald McGahn "is reviewing what options, if any, are available to us." But White House officials could not say whether any such documentation exists.
There is no evidence such a document on surveillance of Trump himself exists, according to sources with knowledge of the situation whom CNN spoke to Saturday.
The FISA court's records are some of the most secretive intelligence documents. The White House could seek possible records from the Justice Department. If it did that, it would be unheard of and a breach of protocol, University of Texas…