U.S. stocks slipped with Treasuries, while gold advanced as caution rippled through markets after Federal Reserve Chair Janet Yellen all but assured investors that interest rates will rise next week.
The S&P 500 Index slipped, with JPMorgan Chase & Co. warning that hawkish Fed rhetoric has increased the likelihood for a short-term pullback. The dollar and Treasuries were both little changed. Deutsche Bank AG pulled down European shares after announcing plans to raise capital. Metals slumped on Chinese growth prospects and the French presidential race continued to roil the euro. Gold futures rose 0.3 percent.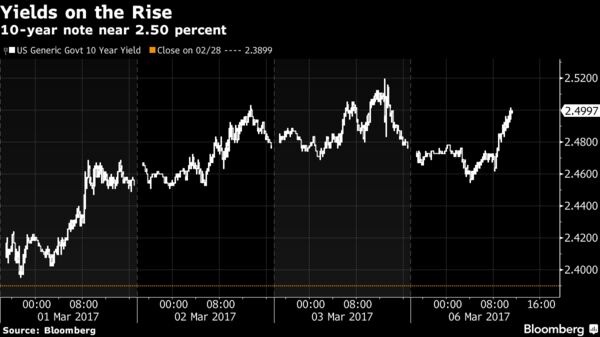 Markets appear to be coming off recent peaks as investors price in a near-certain March U.S. interest rate increase by the Federal Reserve. Chinese Premier Li Keqiang warned of larger challenges ahead during his work report to the annual National People's Congress gathering in Beijing. In Europe, politics has become the main market driver as election campaigns in the Netherlands, France and Germany put the status quo under threat.
"The 'pothole' is a political one with far-right parties gaining ground in opinion polls ahead of both a Dutch and French ballots in spring," Luca Paolini, chief strategist at Geneva-based Pictet, said in a research note. "We are scaling back exposure to European stocks, albeit retaining our overweight stance."
Read our Markets Live blog here.
What's ahead for the markets: