A stronger rand and falling inflation expectations may allow South African Reserve Bank Governor Lesetja Kganyago to start cutting interest rates this year as long as political developments don't derail the currency's gains.
Higher commodity prices and the end of a severe drought have improved prospects for an economy that probably expanded at the slowest pace in seven years in 2016. This has boosted the rand and led to an expectation of lower inflation, even as political risks, such as the possibility that Finance Minister Pravin Gordhan may be replaced, still remain.
Forward-rate agreements starting in nine months, used to speculate on borrowing costs, show traders have started pricing in cuts in the repurchase rate. Breakeven rates, a measure of inflation expectations, have fallen 18 basis points in 2017 and were below the top end of the central bank's 3 percent to 6 percent target band at least three times this year. The Reserve Bank has said it may be close to the end of the tightening cycle that saw the benchmark rate raised 200 basis points to 7 percent in the two years through March 2016.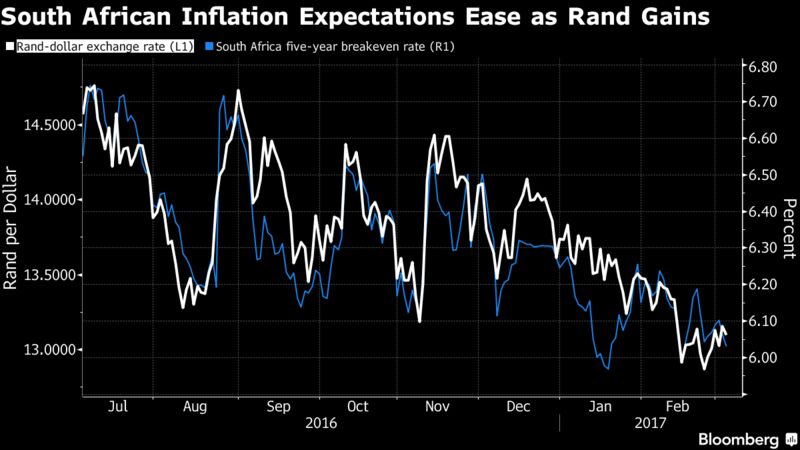 "Our inflation profile has improved to such an extent that now not only can we think of no rates movement for the rest of this year, but some people are thinking about a rate cut," George Herman, head of South African portfolios at Citadel Investment Services in Cape Town, said by phone. "They are actually in a very good place."
The repurchase rate was last cut in July 2012, when then-Governor Gill…