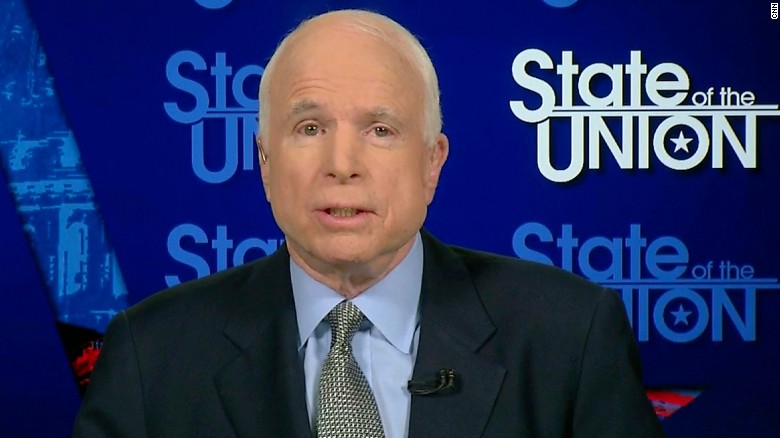 Washington (CNN)Sen. John McCain said Sunday that President Donald Trump should either retract or substantiate his claim that President Barack Obama wire-tapped him in the final weeks of the presidential campaign and added he expects more to come on Russia's meddling in the US election.
McCain said on CNN's "State of the Union" that he had "no reason to believe" Trump's allegation, which the President has not supported with any evidence and which a White House official said was prompted by a Breitbart article.
"I have no reason to believe that the charge is true, but I also believe that the President of the United States could clear this up in a minute," McCain told anchor Jake Tapper. "All he has to do is pick up the phone, call the director of the CIA, director of national intelligence and say, 'OK, what happened?'"
The Arizona senator's comments marked the latest high-profile call for the President to explain a series of tweets he sent on March 4 in which he claimed, without evidence, that Obama had the "wires tapped" at Trump Tower. Since Trump leveled the stunning accusations, several current and former national security officials denied the accusation, including former Director of National Intelligence James Clapper, as did Obama himself through his spokesman. Sources have told CNN that FBI Director James Comey also pushed back against Trump's claim.
Under the Foreign Intelligence Surveillance Act, law enforcement agencies must obtain a warrant from a secret court to undertake such monitoring. But communications of Americans may be swept up in the monitoring of foreigners, as was reportedly the case with ex-national security adviser Michael Flynn, whose leaked contacts with Russian diplomat Sergey Kislyak led to his ouster.
Reports that Trump's associates contacted Russians known to US intelligence during the campaign have dogged…