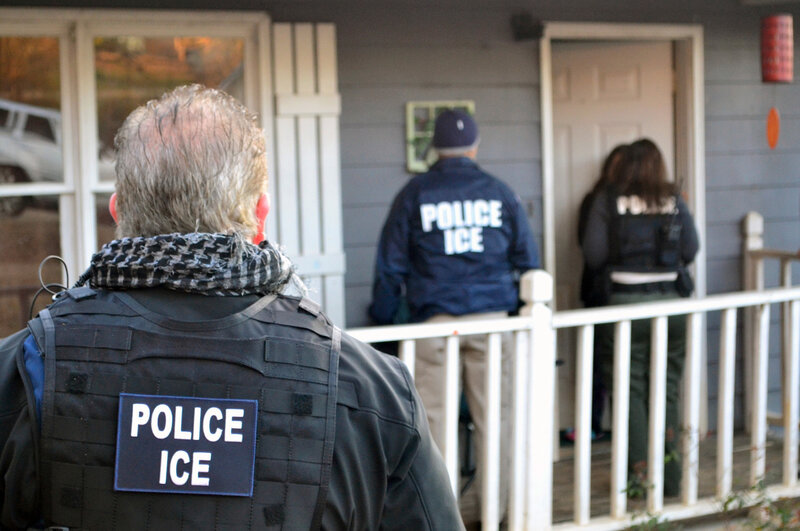 Ever since Donald Trump entered the presidential race, his comments on illegal immigration have been pored over in the press — from vows to deport millions of people to promises that any enforcement plan would have "a lot of heart." Observers asked, again and again, how rhetoric would translate into actual policy.
Now activists and experts have the policies themselves to examine.
On Jan. 25, Trump signed a pair of executive orders on immigration enforcement (not to be confused with his "travel ban" affecting refugees and seven majority-Muslim countries.) The documents signaled that he would pursue a path of greatly expanded deportations — and an actual wall on the U.S.-Mexico border.
On Tuesday, the Department of Homeland Security released two memos outlining how those orders would be enforced. The memos, signed by Sec. John Kelly, have been described by immigration activists as a blueprint for "mass deportation," though the administration has denied that.
It will take time for some of the new policies to be made reality — and in certain cases, DHS must wait for funding from Congress. But in the meantime, here are a few key takeaways:
The memos, like the orders, drastically expand the category of people classified as "priorities for removal."
Under the Obama administration, immigrants in the U.S. illegally who had been convicted of serious crimes were prioritized for deportations. Under the new rules, federal agents could seek to deport people in the country illegally who were convicted of any crime, no matter how minor. In fact, agents could prioritize for deportation people who have just been charged with a crime — or people who have committed an act for which they could be charged.
Anyone who has "abused any program related to receipt of public benefits," and anyone an immigration officer deems a risk to public safety or national security, also could be marked as a priority.
The shift in policy could affect up to 11 million people.
Immigration advocates have highlighted, in particular, the fact that people who have "committed an act for which they could face charges" could be made a priority.
"Because immigrants can technically face charges for entering the country illegally," NPR's Adrian Florido explained in January, the policy "potentially makes any immigrant in the U.S. illegally a deportation priority just by virtue of being present."
According to the Pew Research Center, there were 11.1 million people living in the U.S. illegally in 2014; two-thirds of them have been in the country for a decade or more, Pew says. That year, more than half of immigrants in the country illegally were from Mexico, 15 percent were from Central America and 13 percent from Asia. NPR's Hansi Lo Wang has more on the demographics of the group.
The memo preserves Obama's protections for DREAMers, at least for now.
During Barack Obama's presidency, an executive action called DACA — Deferred Action for Childhood Arrivals — offered temporary work permits and protection from deportation to people who arrived in the U.S. as children. It covered hundreds of thousands of people, sometimes referred to as DREAMers.
There was broad concern among people with DACA protections that Trump would end the program, and January's executive orders didn't offer any clear signal about the program's future.
But the DHS memos explicitly state that DACA remains in effect. They also state that DAPA, a program for the parents of U.S. citizens that has never been implemented, will be "addressed in future guidance."
DHS plans to hire thousands more agents …
The memos, like the original orders, call for 10,000 more officers and agents at Immigration and Customs Enforcement and 5,000 more at U.S. Customs and Border Protection.
That will require funding from Congress. And CBP, which has struggled with preventing corruption, already has trouble filling open positions, according to a recent report…