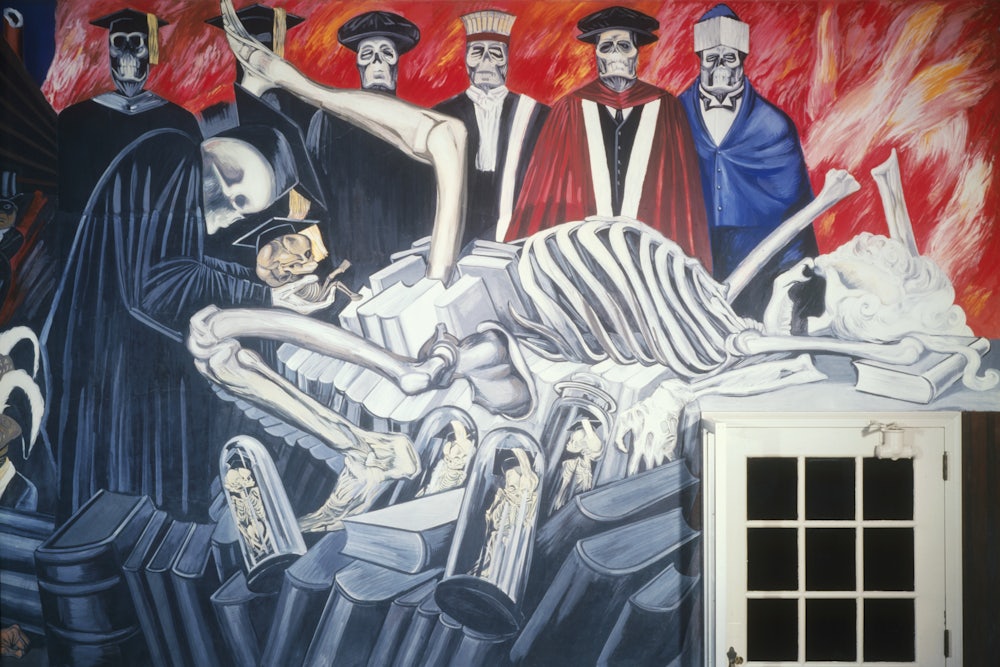 Between 1932 and 1934, the Mexican muralist José Clemente Orozco toiled away on the masterwork that would christen the basement of Dartmouth College's new library. The resulting mural—3,200 square feet of arresting visual narrative that maps out, as its title declares, "The Epic of American Civilization"—is more than a grand showpiece. Orozco's work is most striking today as a testament to the intellectual self-confidence that once characterized American colleges, and which has waned over the past decades with disastrous effects.
Orozco had a flair for political boldness. His murals shout in a kind of proto-post-colonial language that piqued the interest of American artists, but clashed with the bourgeois ethos of mid-twentieth century colleges. The suspicion that his work would be at odds with the prevailing values of Dartmouth was not lost on anyone involved in the project, from the pair of art professors who recruited him for the job, to the philanthropist (and staunch anti-communist) Abby Rockefeller who financed the commission.
And true to expectation, the mural was vicious—particularly in its panel titled "Gods of the Modern World," which depicts academia as a corpse of dead knowledge, birthing intellectually stillborn graduates each year as the world burns in the backdrop. But as Jacquelynn Baas, the former director of Dartmouth's Hood Museum of Art, recalled in an interview, "No one ever told [Orozco] that he couldn't do what he was doing." The mural inevitably spurred a minor backlash among the most conservative alumni—who responded by sponsoring a new work with a whimsical portrayal of the college's historical relationship to nearby Native American tribes. The trustees in favor of permitting Orozco's provocative work prevailed, however, and did so with ease. Baas summarized the view of Dartmouth's then-President Ernest Martin Hopkins on the matter, praising his insistence that "students should be exposed to the best, no matter what."
Times have changed. Today, college campuses are regularly riled by controversies over art and architecture that clash with modern values. Students and faculty have organized to wipe away outdated or offending artifacts, and administrators have typically responded with sympathy, followed by acquiescence. Yale has become the epicenter of the trend with its struggle over Calhoun College, the residential college named for the pro-slavery Vice President John C. Calhoun. In August, Yale President Peter Salovey established a "Committee to Establish Principles on Renaming"—the title of which is so flatly Orwellian that the tension between the group and the school's commitment to free inquiry is impossible to ignore.
The growing resistance to ideas that grate against popular values extends beyond the visual realm of buildings and art works. The past few years have seen a sharp rise in "disinvitations" of campus speakers and school-sanctioned task forces to investigate students' speech. Last spring at Hampshire College, President Jonathan Lash agreed to disinvite commencement speaker Emily Wong, a physician who, despite having no record of offensive remarks, was condemned by students for being insufficiently concerned with the struggle for social justice.
This new, fervent insistence on cleansing campuses of contradictions is usually attributed to politics. Watchdog organizations like Turning Point USA report on the mistreatment of conservative students by liberal professors, suggesting that the academy has become so uniformly progressive that it can no longer tolerate a single word or thought that strays from its new orthodoxy. The dominance of progressive politics on campus is undeniable. A 2014 study by the social psychologists Yoel Inbar and Joris Lammers found not only that liberal professors now dominate every corner of the social sciences, but also that universities often express an open reluctance to hire conservative professors.
In focusing on this political cartel effect, however, critics tend to underemphasize the increasing fragility of the universities themselves—the second great factor that…