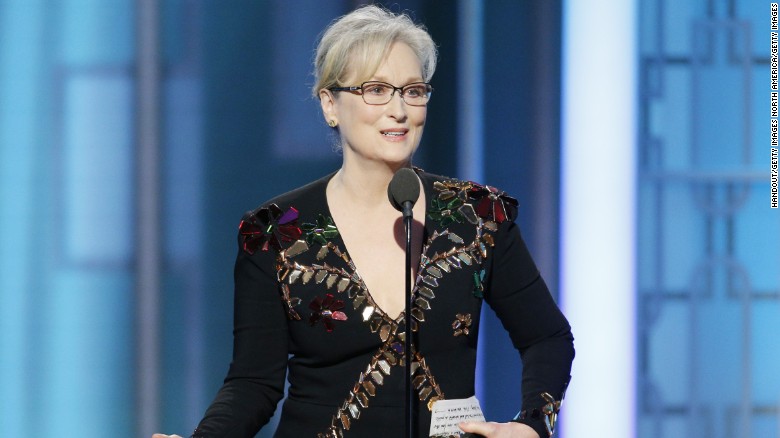 (CNN)As the first major awards show since Donald Trump's election, the Golden Globes offered a record-setting embrace of the musical "La La Land," but also a snapshot of the hostile atmosphere between the President-elect and the arts/entertainment community.
Meryl Streep delivered the biggest and most forceful broadside, using her platform receiving the Cecil B. DeMille career-achievement award to issue a powerful rebuke of the incoming administration and Trump himself. She spoke of Hollywood and the press as being among "the most vilified segments in American society right now," before rattling off a list of fellow performers born outside the United States.
"If we kick 'em all out, you'll have nothing to watch but football and mixed-martial arts, which are not the arts," Streep said, to enthusiastic applause from the crowd, while taking Trump personally to task — without naming him — for mocking a disabled reporter during the campaign.
Presented by the Hollywood Foreign Press Association, the Globes have a reputation as a freewheeling affair, where booze flows and gaffes are embraced. What emerged overall, however, was tedious and dull, as NBC dispensed with any pretense of edginess by tapping its late-night host, Jimmy Fallon, to emcee the telecast, insuring there wouldn't be any of those uncomfortable moments that, say, Ricky Gervais doled out in the past.
Given Hollywood's liberal bent, such showcases have become closely watched targets by conservatives. And while Fallon's few monologue jokes at Trump's expense — including one comparing him to "Game of Thrones'" King Joffrey — were tepid at best, the otherwise drab show was punctuated by political moments that dribbled out over the night.
Hugh Laurie — a winner for AMC's "The Night Manager" — wryly set…