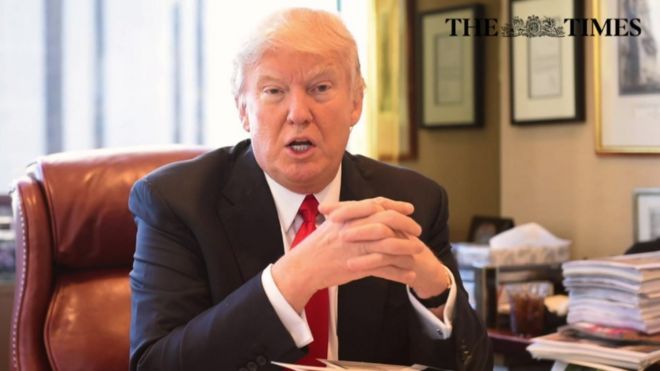 The UK is "doing great" following its vote to leave the EU, US President-elect Donald Trump has said.
In his first UK interview, with former justice secretary Michael Gove for the Times, Mr Trump said he thought the UK was "so smart in getting out".
Mr Trump promised a quick trade deal between the US and the UK after he takes office in five days time.
He also criticised Nato and German Chancellor Angela Merkel's immigration policies.
Mr Trump spoke to the Times and German newspaper Bild ahead of his inauguration on Friday.
'Crazy'
Mr Gove – who was a prominent Leave campaigner during last year's referendum – asked Mr Trump whether the UK was "at the front of the queue" for a trade deal with the US following the Brexit vote.
"I think you're doing great, I think it's going great," he replied.
The question referred to President Barack Obama's comments last April that the UK would be "at the back of the queue" if it left the EU.
"Trump said Brexit is going to happen, and it happened. Everybody thought I was crazy," the president-elect continued.
"Obama said, 'They'll go to the back of the line,' and then he…