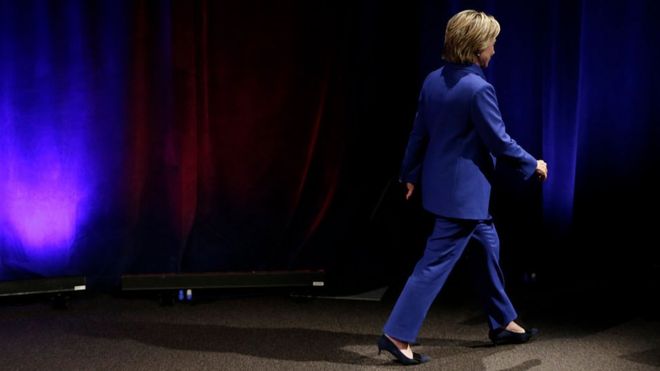 As Hillary Clinton exits the national stage, US women continue to pursue a political life. Will a Trump presidency motivate more women to run for office?
The election of Donald Trump delivered a crushing blow to US women's rights activists hoping to elect the first female president.
But Hillary Clinton's failure to shatter the metaphorical glass ceiling was not collective.
In fact, Mr Trump's victory has appeared to energise a new group of women who have pledged to run for office.
She Should Run, a non-partisan non-profit that encourages more women to get into politics, has seen more than 5,100 women sign up for its incubator programme since the election, according to Erin Loos Cutraro, the group's chief executive and co-founder.
The incubator, initially launched in March, helps prepare women who are interested in running for office and connects them with like-minded women.
Chelsea Wilson, a 27-year-old member of the Cherokee Nation and Oklahoma native, is one of those women who felt empowered to step forward.
The Washington, DC, resident went through the programme in the spring. She plans to return to her home state and run for office.
"More women in government injects new perspectives and ideas," Ms Wilson says. "And I think the election shined a light on what's missing in politics."
She Should Run is not the only group pushing for more female candidates to receive a post-election surge of support.
Emily's List, an organisation dedicated to electing pro-choice, Democratic women for office, told the BBC it raised more than $500,000 (£406,867) since 8 November.
The group said most of those donations were unsolicited and roughly a third came from new donors.
Ready to Run, a non-partisan training programme for women considering elected office at Rutgers University's Center for American Women and Politics (CAWP), has already registered nearly 100 women for its spring course. At this time last year, only two people were signed up.
"They want to make sure that their voices are heard," says centre director Debbie Walsh. "It's this notion that if they don't speak up, who will?"
"I've always had it in the back of my mind that I may want to run for office some day," says Courtney Peters-Manning, a 39-year-old finance director.
But working full time and having two young children made it "easy for daily life to get in the way of grand ambition".
The election was "the kick in the pants that I needed". Ms Peters-Manning is…