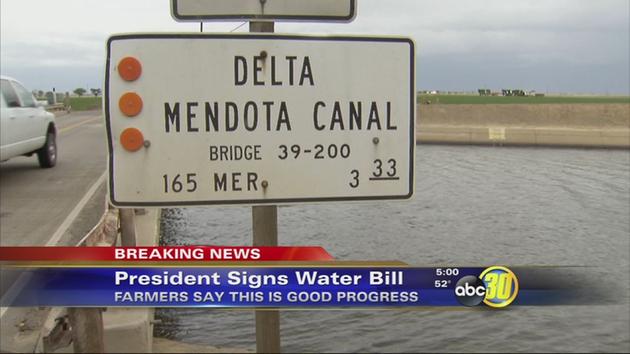 After years of impasse in congress, there is finally some relief for Valley farmers. Friday, President Barack Obama signed into law a water infrastructure bill, providing aid during California's ongoing drought.
The Westland's Water District relies heavily on pumps letting in water from Northern California.
For years, farmers have been asking to capture more water from the Delta. This year the district only received five-percent allocation.
The water infrastructure bill will hopefully change that by allowing federal agencies more flexibility to pump water– especially during big storms.
Farmers said this is progress they have been working on for at least five years. It comes at the right time just as the Valley heads into its rainy season
"We are just on the front end of the precipitation season, we do expect a lot more snow and rain fall to come to California over the next three to four months. And so the timing of this was very good for this upcoming year. Obviously many of us, you know, it's two to three years overdue but never the less we are glad to see it for this year," said Ryan Jacobsen, CEO of Fresno County Farm Bureau.
The bill passed with bi-partisan support but some opponents were worried more pumping would harm fish protected by the endangered species act.
The White House released the following statement after the president's signing:
Statement by the President on the Water Infrastructure Improvements for the Nation (WIIN) Act
Today I am signing the Water Infrastructure Improvements for the Nation…