Chancellor Angela Merkel got an early taste of the kind of reception she can expect from her populist opponents after a truck careened into a Berlin Christmas market, killing 12 people in what her government said was probably a terror attack.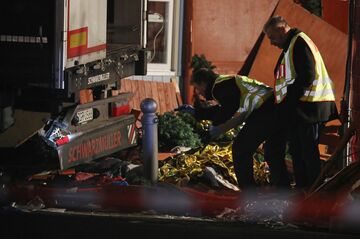 "These are Merkel's dead," Marcus Pretzell, chairman of the Alternative for Germany party in the western state of North Rhine-Westphalia, posted on Twitter, eliciting a chorus of rebuttals. A vice chairman of the Social Democrats, Ralf Stegner, called the comment "unbelievable and disgusting."
The response from the anti-immigration party that's polling in third place nationally underscores the pressure on the German leader to calm a jittery nation as investigators seek to piece together the background to the presumed attack in the capital.
Even if it turns out to be Islamic terrorism, it's hard to predict what the consequences might be for the chancellor, according to Daniel Hamilton, executive director of the Center for Transatlantic Relations at the Johns Hopkins School of Advanced International Studies in Washington.
"Germany hasn't had an attack like this that's killed a lot of people in a long time, so clearly there will be pressure on her," Hamilton said by phone. "But there will also be a sense that Europeans are in this together, that it's a common threat."
Pressure Pot
For Merkel, who will make a statement at 11 a.m. in Berlin, Monday's tally of dead and injured may be a day of reckoning for her political future. While police were cautious in speculating on a motive, the chancellor's hopes of winning a fourth term in federal elections next fall may not survive another public debate about the risks of terrorism and anxieties over an influx of over a million refugees since the beginning of 2015.
"Our worst fears are confirmed," Stephan Meyer, a Bavarian lawmaker in the lower house allied with Merkel, told Bild newspaper.
Merkel's Facebook page, which has about 2.3 million likes, the most of any German politician, was changed to a black background after the killings. Users flooded the site with hundreds of comments, many criticizing her for…