The U.K.'s long-predicted Brexit slump may finally arrive.
With the negotiations to exit from the European Union set to begin early next year, the political back-and-forth that slammed the pound this year will continue through 2017. Bank of England policy maker Ian McCafferty foresees a "slow-motion slowdown" as consumers face faster inflation, importers cope with higher costs and companies become more reluctant to invest.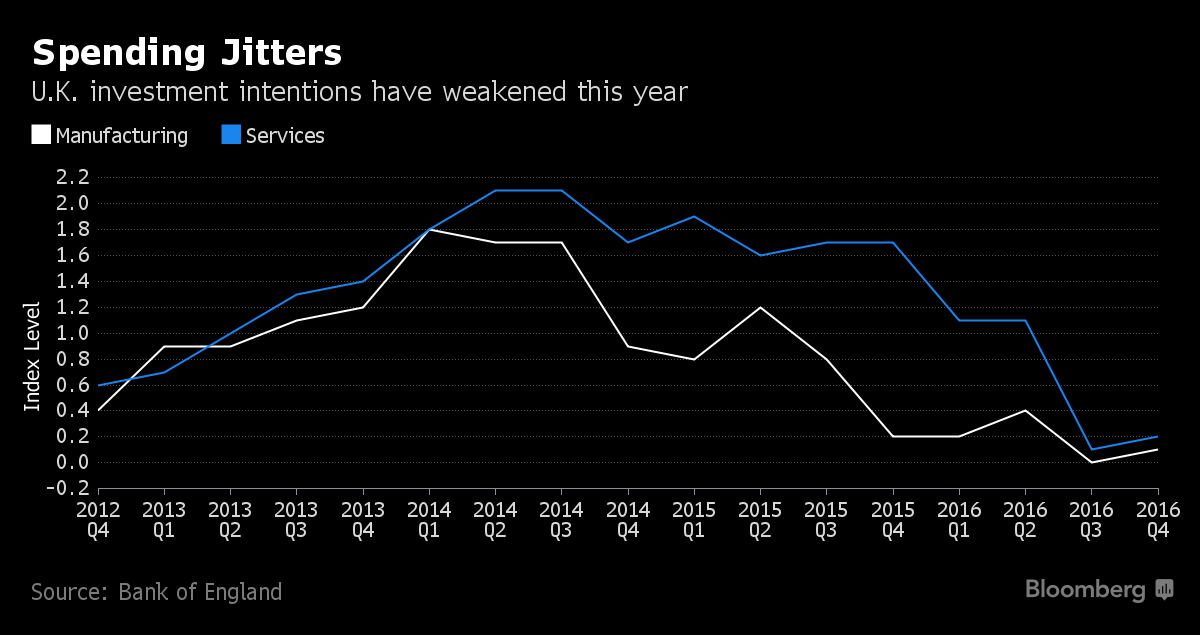 While prophecies of doom have so far proved inaccurate, a BOE report on Wednesday showed companies are hoarding cash as they become more cautious. That's partly because households and businesses remain in the dark about the country's future ties with the EU. Further muddying the outlook is the U.S. administration under Donald Trump and elections that could alter the political makeup in some of Europe's biggest nations.
"Forecasting is hard at the best of times and these are not the best of times," said Rob Wood, a former BOE economist now at Bank of America-Merrill Lynch. "Ultimately the economic forecasts for next year and the years beyond depend heavily on the choices that politicians make."
Some details of the new EU-U.K. relationship may emerge shortly if Prime Minister Theresa May fulfills a promise to publish a plan before formal exit talks, scheduled to start by the end of March with the triggering of Article 50. That's the same month Chancellor of the Exchequer Philip Hammond will unveil his new budget, which may contain some fiscal sweeteners to smooth the economy's progress.
The BOE will update its projections in early February, meaning they may have a very short shelf life. Governor Mark Carney has already come under fire for his forecasting. Along with the IMF and OECD, the BOE was lambasted this year by pro-Brexit campaigners who said they exaggerated the potential adverse effects of withdrawal.
Growth Slows
The U.K. recorded a solid performance this year, with consumers helping to sustain momentum after the EU referendum. Growth is likely to be 2 percent, above the 1.6 percent forecast…